Peanut planting is about to get underway across many parts of the South as soil temperatures in south Georgia and Alabama generally rise above 70 F during the day and no cold weather is expected.  In general, planting begins around mid-April once the threat of cold weather has passed, since peanut germination is poor at temperatures below 68 F and improves with higher soil temperatures (usually measured at the 4 inch depth). Here is this morning's 4-inch soil temperature from the Georgia Automated Environmental Monitoring Network.  It shows temperatures just barely at 68 degrees across southern Georgia, and so just at the lower limit for peanut germination.  Warm temperatures this week should help these temperatures to rise over the next few days.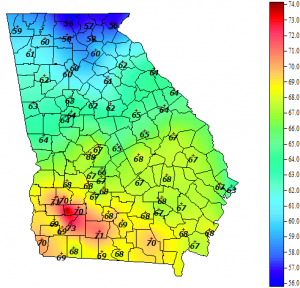 A bigger problem this year is the wetter than normal conditions that are expected to occur for the next few weeks under the influence of the current El Nino.  NOAA's Climate Prediction Center indicates that temperature and precipitation both have an increased chance to be above normal in April.  The frequent rains in particular may make it difficult for some producers to get into the fields to plant.  However, since conditions in March were generally drier than normal, the rain will help build up soil moisture reserves going into the growing season.  The rainfall prediction for summer indicates no trend towards above or below normal values, but long-term trends indicate slightly increased chances of above normal temperatures through the peak growing season.  If the El Nino continues, we expect a lower number of tropical storms than usual in the Atlantic, which could lead to dryness in late summer and fall when tropical storms often provide timely moisture to Southeastern fields.
In general, El Nino produces near normal yields in many areas of the Southeast, but higher than average yields in Alabama and North Carolina.  You can see yield maps and look at other peanut tools at https://www.agroclimate.org/.