If you've been paying attention to the current tropical season, you know that the west coast has been plagued by heavy rains from the remnants of tropical storms.  First Hurricane Norbert, and now Hurricane Odile have sent plumes of moisture into the desert Southwest, leading to unprecedented flooding and the possibility of many additional rainfall records being broken.  Now Tropical Storm Polo is following a similar track.  How likely is that moisture to affect us here?
The map below shows the 7-day expected rainfall from NOAA.  Note the almost 8 inches of rain expected in Arizona!  The main movement of Odile's moisture is expected to be towards Oklahoma, where a secondary center of over 3 inches is expected.  However, some of the moisture may also be sucked into the frontal boundary which is now in the southern part of our region.  This could enhance rainfall locally in the areas along the front.  However, most of the Southeast (with the exception of southern Florida)  is expected to get below normal rainfall for the next week as the front stays to our south.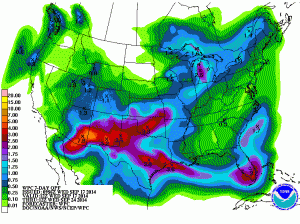 PS, according to Dr. Klaus Wolter, the El Nino specialist who spoke on the ACF basin webinar yesterday, the very active hurricane season in the Eastern Pacific is one of the signs that he thinks indicates that El Nino is already here.