Some of the corn in the county was showing the impact of the strong winds and rain that moved through Sunday afternoon. Not all of the corn that I looked at throughout the county showed damage from the storm.
Some corn fields that I looked at near Leefield with Greg Sikes on Monday of this week had definitely been hit with high winds and rain from the storm. This corn is in the V5 stage and the wind had it leaning pretty bad. The picture below is what the corn looked like on Monday afternoon.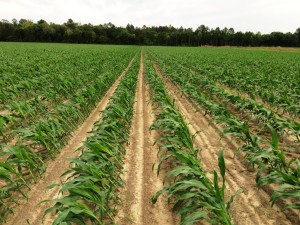 I stopped by field again yesterday afternoon to see how the corn had responded to the much needed sunshine over the past three days and as you can see from the picture below it has responded nicely by straightening back up.