A few things to share with growers based upon my phone calls and field observations:
1) I am getting the feeling that many peanut growers are blindly applying EPOST or "cracking" sprays of paraquat without first walking their fields. From my field plots earlier today, Figure 1 is a picture of a non-treated check (NTC) plot while Figure 2 is a picture of Prowl + Valor + Strongarm applied PRE. In this case, the PRE herbicides worked as expected and there is no need for an EPOST or "cracking" application of paraquat.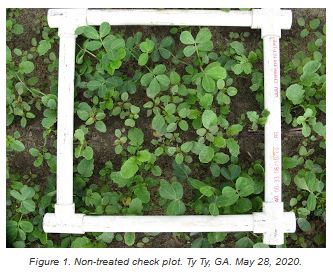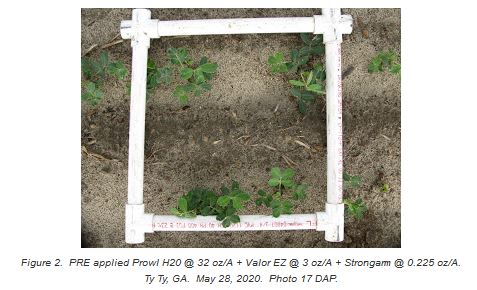 2) I have been hearing some interesting recommendations for "cracking" sprays coming from industry but I (UGA) will stick with what works and has been proven by lots of research (i.e. paraquat + Storm or Basagran + Anthem Flex or Dual Magnum or Outlook or Warrant or Zidua) (Figure 3).

3) The current price of Storm 4SL (~$80/gal) has some folks gasping for breath. Thus, 16 oz/A costs $10.00/A. If a grower wants to make his/her own Storm, the equivalent mix would be Ultra Blazer @ 11 oz/A ($4.38/A) + Basagran @ 11 oz/A ($3.87/A). However, if a grower was going to mix his/her Storm, I would prefer the mixture to be Ultra Blazer @ 16 oz/A ($6.38/A) + Basagran @ 8 oz/A ($2.81/A). But, this mix would be slightly hotter and more effective.