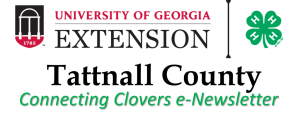 Each year, Tattnall County 4-H reaches almost 700 youth in the Tattnall County area with educational programming, service opportunities, leadership training, and other opportunities. For decades, communication with parents and students was conducted through postal mail and sending home flyers and newsletters from the schools. As the internet becomes the more predominate form of communication for younger generations, it is imperative that Extension find new ways to keep our target audience up to date on all of the wonderful opportunities through 4-H. While Facebook has been a good tool for the past few years, more and more people are moving to alternate social media channels and are no longer seeing information posted there.
With that in mind, we begin this new blog … Connecting Clovers.
Our intent is to share information that will be beneficial to both our youth and adult 4-H audiences, with occasional information from our Family and Consumer Sciences and our Agriculture partners. If you are interested in receiving updates of new posts on the blog, you may sign up for our e-newsletter. The e-newsletter will deliver a digest of recent posts to your email every two weeks to ensure you don't miss any important new posts. To sign up, you may complete the following form: Connecting Clovers Form.
Thank you for your patience as we begin this new journey into online news…
Feel free to share your feedback, tips and suggestions below!
~Rebekah Greene, 4-H Agent~