Missed the panel discussion? Don't worry! You can view it on the Videos and Media page.
"Gather" Film Screening and Discussion
Film available: April 16th – April 23rd
Panel discussion: April 22nd, 3:00pm EDT
The Sustainable Food Systems Initiative is excited to present a screening of the film "GATHER", accompanied by a virtual panel discussion. Supported in part by the USDA National Institute of Food and Agriculture along with UGA, these events will be available to access for FREE. The film will be available from April 16th – April 23rd and the panel discussion will take place on April 22nd at 3:00pm EDT.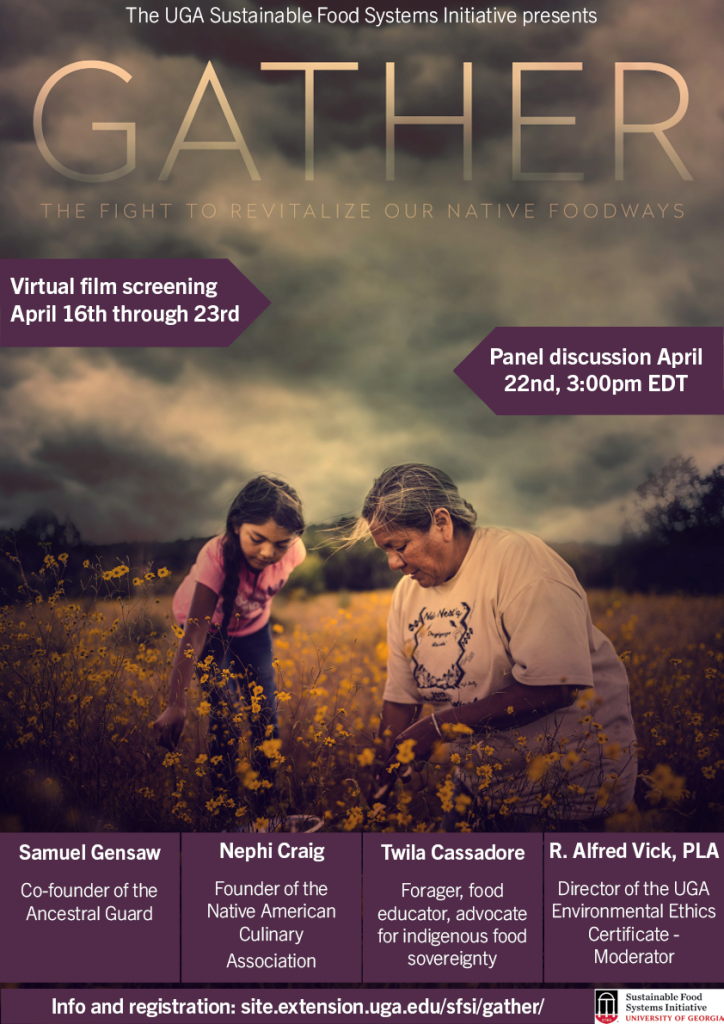 About the Film:
"Gather is an intimate portrait of the growing movement amongst Native Americans to reclaim their spiritual, political and cultural identities through food sovereignty, while battling the trauma of centuries of genocide.
Gather follows Nephi Craig, a chef from the White Mountain Apache Nation (Arizona), opening an indigenous café as a nutritional recovery clinic; Elsie Dubray, a young scientist from the Cheyenne River Sioux Nation (South Dakota), conducting landmark studies on bison; and the Ancestral Guard, a group of environmental activists from the Yurok Nation (Northern California), trying to save the Klamath river."
To learn more about the film, visit gather.film.
Meet the Panelists:
Samuel Gensaw is an enrolled member of the Yurok Tribe and a co-founder of the Ancestral Guard, committed to the foodways of the North Coast California indigenous as well as supporting indigenous environmental movements worldwide.
Nephi Craig is the founder of the Native American Culinary Association, a network of Native cooks, chefs, scholars, farmers, and community members devoted to the development and preservation of Native American foodways.
Twila Cassadore has been working with San Carlos Apache, White Mountain Apache, and Yavapai peoples for the past 25 years, conducting interviews with elders to bring information back into the community to address health and social problems.
R. Alfred Vick, PLA (moderator) is the Georgia Power Professor in Environmental Ethics at the University of Georgia and Director of the Environmental Ethics Certificate Program. He also serves on the Faculty of the Institute of Native American Studies and is a contributor to the book "Native Foodways: Indigenous North American Religious Traditions and Foods".