Graduate Researchers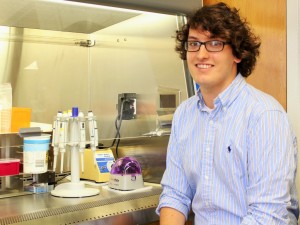 Matthew Doremus
Matthew grew up in a small town outside Buffalo, New York (Go Bills!) for the first part of his life before moving to Macon, Georgia where he spent his high school years. He graduated from the University of Georgia in 2014 with degrees in Biology (B.S.) and Entomology (B.S.E.S.) and is now a current Masters student in the Oliver lab. Currently, He's interested in the symbiotic relationships that have formed between insects and microbes, with a focus on facultative symbionts of the pea aphid, Acyrthosiphon pisum. He is especially interested in the effects of these bacteria on host ecology, as well as the interactions between multiple co-infecting facultative symbionts within the same host. When I'm not prodding aphids, I love seeing/listening to music (don't ask me to play it, though), eating burritos, watching movies, eating more burritos, watching movies about burritos, being routinely disappointed by my favorite sports teams, and burritos. Oh, and I should mention my love of burritos: the pinnacle of humanity's culinary skills and a true gift to the world.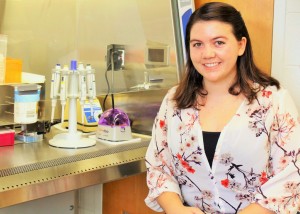 Laura Kraft
Laura is a joint Bachelor's/Master's student from Alpharetta, Georgia. Although she was initially unsure of her career path, Applied Entomology has become an exciting area of research where she seeks to further her education and eventually work professionally. In preparation for this career pathway her current project combines molecular and applied techniques that will be useful as she advances to the next level of education. A current project includes studying the composition of pea aphid predators in a population cage study.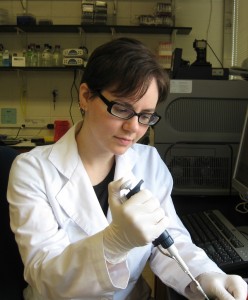 Stephanie R. Weldon
Stephanie is a USDA-NIFA Predoctoral Fellow in the University of Georgia's Department of Entomology, working under the auspices of Dr. Kerry Oliver. A native of New Orleans, Stephanie has been enjoying Georgia's hospitality for ten years at this point, as she earned her BS in biology at Emory University in Atlanta with the aid of a Robert W. Woodruff merit scholarship. Stephanie's primary area of research is on mobile genetic elements in facultative defensive bacteria in aphids, with a side line in the biology of host-sharing by multiple mutualists. Apart from her research, Stephanie is the former UGA representative to the Southeastern Branch of the ESA's Student Affairs Committee, and chaired the subcommittee on student symposia. In 2011, she acted as team captain for the ESA Student Debates' Overall Best Debate Team. In 2012, she was a member of UGA's Linnaean Games team when they won the national championship, though she will never live down the fact that she forgot Jeff Goldblum's name when ringing in to answer a question about The Fly. Stephanie Weldon was UGA Entomology's 2013 Student of the year, a recipient of a UGA Graduate College Dissertation Completion Award (2014) and was recently awarded a highly- competitive USDA-NIFA Pre-Doctoral Fellowship (2014). When not at either the computer or the lab bench, Stephanie enjoys collecting books and performing dangerous cooking experiments.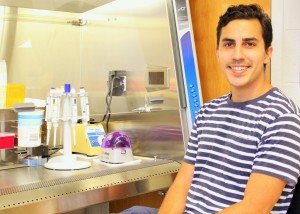 Adam Martinez
Adam received his B.S. degree in Biology from Oregon State University in Corvallis, Oregon. During his time at Oregon State he gained unique and valuable experience as a Biology Lab Prep Assistant and Student Curatorial Assistant. He is a recently graduated doctoral student of the Oliver lab. After only one year at UGA, he began teaching as a graduate student for an Insect Taxonomy class and continued to teach for the next four years in General Entomology and occasionally Biotechnology. During his time at UGA he has been exceptionally productive, having about 8 publications, and numerous presentations at national and regional meetings. Professional memberships include the Entomological Society of America, GES Student Affairs Committee, and the UGA H. O. Lund Entomology Club. He has enjoyed being a research mentor through CURO, CAES, and YSP Programs for younger students that have visited the Oliver Lab. In addition to other awards, Adam was awarded for two outstanding oral presentations in 2014 (ESA Portland Second Place Oral and ESA SEB First Place Oral), and he received a 2015 USDA NIFA postdoctoral grant which he had to decline in order to accept another post-doc position. He recently accepted a post-doctoral position working with Dr. Martin Kaltenpoth at Johannes Gutenberg University in Mainz, Germany.
Hannah Dykstra
Dr. Oliver's first M.S. student finished her degree the summer of 2013 and her thesis work was recently featured as a 'spotlight' article deemed of special significance in the well-regarded journal Applied & Environmental Microbiology. She has now become a science educator in Seattle, WA.
∴¤∴¤∴¤∴¤∴¤∴¤∴¤∴¤∴¤∴¤∴¤∴¤∴¤∴¤∴¤∴¤∴
Undergraduate Researchers
Former
Tae-In Lee, Alex Hedaya, Khin Khine, Shari Garrett, Maya Branch, Harmon Johar, Danielle DuMont, Angela Holder, Maureen Egbosiuba, Justin Lukose, Jimmy Quijada, Matthew Doremus, Laura Kraft, Shannon Ritter, Caroline Early, MacDonald Morrison, Hiram Johnson, Varin Sachhathep, and Giselle Fernandez.

Microbiology REU program: Research in Prokaryotic Biology
The Microbiology Department of the University of Georgia in Athens (UGA) recruits undergraduates each summer to participate in an NSF-sponsored research program (the Research Experience for Undergraduates (REU) summer program). The students conduct research under an advisor in diverse Prokaryotic Biology topics during an intensive 9 weeks of hands-on laboratory work. The Oliver lab has had the pleasure of hosting REU students.
2015: Yeidymar Sierra-Moya (University of Puerto Rico – Arecibo)
2012: Erin Smith (Bard College)
∴¤∴¤∴¤∴¤∴¤∴¤∴¤∴¤∴¤∴¤∴¤∴¤∴¤∴¤∴¤∴¤∴
High School Researchers
UGA College of Agricultural and Environmental Sciences Young Scholars Program (YSP)
The Young Scholars Intership Program allows under 100 high school students to conduct research on either the UGA Athens campus, Griffen campus, or Tifton campus. The result of this research experience is an opportunity for students to present their research orally or by poster in a Pre-collegiate conference. Athens Young Scholars have visited the Poultry Science Diagnostic lab, the Plant Pathology Department, the Food Science Department, the UGA Trial Gardens, the State Botanical Gardens, and the Entomology Department (including the Oliver lab):
2016: Alexandria Maddox (Westside High School, GA)
2015: Jordan Harris (Jefferson High, Jefferson GA)
2014: Jordan Harris (Jefferson High, Jefferson GA)
2013: Kira Pollack (Clarke Central High, Athens GA)
2012: Amiri Banks (Chamblee Charter High School, Chamblee GA)
2011: Kassandra Sandoval (Clarke Central High, Athens GA)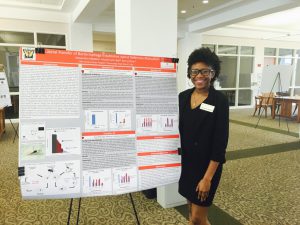 ∴¤∴¤∴¤∴¤∴¤∴¤∴¤∴¤∴¤∴¤∴¤∴¤∴¤∴¤∴¤∴¤∴
Undergraduate and High School Student Awards
Alexandria Maddox
2016: 2nd Place CAES Research Symposium (Poster)
Matthew Doremus
2014: 1st Place CAES Research Symposium (Poster)
2013: CAES Research Award
Angela Holder
2012: CAES Research Award
2012: 3rd Place CAES Research Symposium (Oral)
Thuy Thanh Le
2011: CAES Undergraduate Honors Research Award
Jordan Harris
2014: 3rd Place Poster CAES YSP competition
Amiri Banks
2012: 1st Place Poster CAES YSP competition