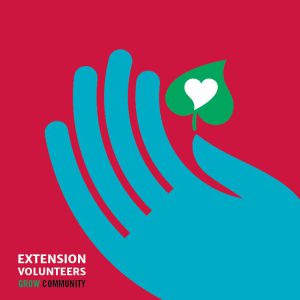 Do you remember what the very first Master Gardener project was? It was a plant clinic, held at a shopping mall in Washington state. The project was birthed from Extension's need to meet public demand for horticulture and gardening information. More than 300 people showed up that first day to get answers from that first crop of Master Gardener Extension Volunteers.
Today, MGEVs continue to enhance the County Extension Agents' efforts to help fulfill the mission of Extension of providing quality, relevant outreach and continuing education programs and services to local citizens. For example, MGEVs in Clayton County provide community garden coaching, horticulture classes, and Ask-an-Expert clinics throughout the year. "By contributing their expertise and energy to our community," says Julie Aring, program assistant to the Clayton county program, "MGEVs have helped county residents learn how to grow vegetables, improve their landscapes, and increase community social connections. Each MGEV provides a unique contribution."
As a result of educational activities offered by MGEVs, Georgians are able to make environmentally sound gardening decisions. Because MGEVs work with Georgians to answer questions and solve problems, insects and diseases can be treated with appropriate controls, plant choices can be made to enhance landscapes and property values, individuals can grow their own fruits and vegetables, and youth gain exposure to the joy and wonder of gardening. As a result of MGEV efforts, agents are able to devote time to developing targeted educational programs that address local issues and needs. MGEVs ultimately help Extension achieve its mission of helping Georgians become healthier, more productive, financially independent and environmentally responsible.
Extension Agent Amanda Tedrow sums it up. "Our Master Gardener Extension volunteers are amazing, hard-working, caring individuals," she says. "While the number of hours they volunteer each year is awe-inspiring, the personal connections volunteers make with our clients and partner organizations really make a difference."