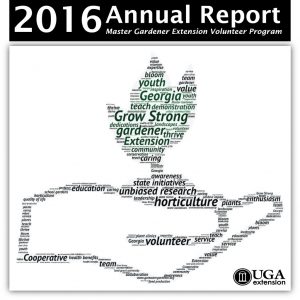 For the Georgia MGEV Program, the "Happy New Year" celebration tends to come after-the-fact! We make sure that all hours for the preceding year are reported by the last Friday in January. Because you all were so conscientious about reporting your volunteer service and continuing education hours by January 27, we are able to share early the 2016 Annual Report of the Georgia Master Gardener Extension Volunteer Program! Thank you!
We are excited to see an increase in reported volunteer service hours as well as continued education! Our volunteer service hours increased by 8% over last year. We saw an increase in Advanced Training hours and events. Our continuing education hours reported increased by 23%, averaging 9 hours of CE per individual who reported CE hours. This is terrific as we continue to build awareness of the importance and value of CE.
Most of our educational projects continue to occur in Environmental Stewardship. Nearly 50% of hours reported fall in this category, as they should. MGEVs are trained to answer questions and provide education on gardening techniques that protect the environment and our natural resources.
Some years, our report is an extended format, like the special edition that we published last year. This year's report is our short form, capturing the highlights of MGEV service. We'll share more stories about MGEV projects in our Project Spotlights for each state initiative. We'll be posting these in April, as we celebrate National Volunteer Week.
So what can you do with this report? Oh, let us count the ways you can share! Community partners, county commissioners, your neighbor, potential project partners, school teachers and administrators, other Extension agents and staff with whom you may want to partner, local government officials, … Let us know how you use your annual report!