MGEVs often conduct educational projects and programs for youth. In fact, youth programs are the third most popular type of educational project that Georgia MGEVs conduct! We're going to learn about a lot of these types of projects during Get Kids Gardeningand Using the Garden as an Outdoor Classroom at Master Gardener University in June. When we extend the garden to youth, these projects become collaborations with the 4-H Extension program area. How exciting it is to pool resources and extend sound programming to the youth in our communities!
Because of this emphasis on youth horticulture, the Georgia MGEV Program has teamed up with Georgia 4-H to offer "Certified Youth Horticulture" training during Master Gardener University! This training follows the 4-H model for certified leader training in other areas, such as 4-H Forestry Field Day Coaches or Certified 4-H Wildlife Judging Coaches. Certified leaders participate in training that gives an overview to Georgia 4-H as well as the essential elements of 4-H programs. They receive significant subject matter training, and they also learn about risk management so that the adult leaders are able to deliver strong programs that are developmentally appropriate for the youth audience. MGEVs who take both Youth tracks (Get Kids Gardeningand Using the Garden as an Outdoor Classroom) at Master Gardener University will complete the criteria for certified training and will be recognized as "certified youth horticulture volunteers."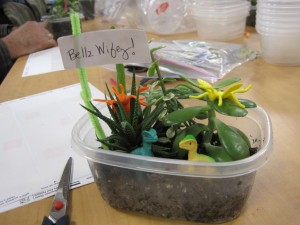 It is our desire that MGEVs partner with the 4-H program staff to deliver quality youth horticulture programs in schools and communities across Georgia. When the MG University training is complete, MGEVs will be prepared to assist with gardening presentations in classrooms or set up an after-school gardening program. Future training opportunities will prepare MGEVs to mentor school garden leaders, such as teachers and parents. There's lots of work to be done in the area of youth horticulture, and MG University is an opportunity to gain ideas and momentum to put those ideas to work!
ADVANCED TRAINING FOR GEORGIA MASTER GARDENER EXTENSION VOLUNTEERS
Master Gardener University 2013
ARE YOU REGISTERED?! (Click here to go to the registration page)