Want to bring some Advanced Training home to your county?
The State Program Office has a challenge for you!
If your county program sends 15 people to Master Gardener University, we'll come to you! We'll schedule a "Creative Teaching Techniques" Advanced Training in your county.
This class meets the "required" course that is part of Silver and Gold Star Advanced Training recognition. It's actually a lot of fun! You never know what you might be asked to wear (look at those LOVELY hats!) or do (Playdough, anyone?)!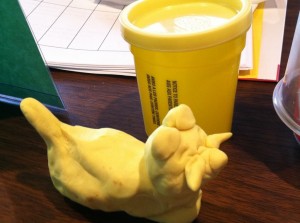 Why do we want you to come to Master Gardener University, or pursue Advanced Training, for that matter? We want volunteers who are confident and satisfied in their roles as education partners with Cooperative Extension, and continued opportunities to learn and grow are important to you. We need skilled, knowledgeable MGEVs who will provide programmatic leadership to local Extension education programs, and know that Advanced Training opportunities help develop that skill, knowledge, and confidence. We also know that Advanced Training events foster connections between volunteers and resources across the state. We're all in the business of cultivation, whether it's knowledge, skills, plants, or people!
ADVANCED TRAINING FOR GEORGIA MASTER GARDENER EXTENSION VOLUNTEERS
Master Gardener University 2013
ARE YOU REGISTERED?! (Click here to go to the registration page)