Written by Fulton County MGEV William L. Jeffries IV, PhD, MPH, MA
As the sun peaked over the Central Florida horizon on a winter morning in the late 1980s, I awoke with cheerful anticipation of a day full of outdoor play. After my morning routine, I proceeded to go outside and round up my friends for hours of tree climbing, hide-and-go-seek, and playing baseball in a vacant lot. My daddy stopped me and said, "Billy, before you go play, pick me some oranges. I'm gonna squeeze some juice." Despite my dislike of this chore, but being ever mindful of Daddy's no-nonsense approach to discipline, I grabbed a 5-gallon bucket, climbed that decades-old tree on the east side of Ma Drayton's—my great-grandma with whom we lived—house, and picked as many oranges as I knew he needed. When I brought them inside, he pointed to a basin in the kitchen sink and said, "Now soak 'em." He then meticulously washed, halved, and squeezed the orange halves by hand. For me and him, it was worth the work involved. Daddy's orange juice was pure nectar! He could easily put Florida's Natural®, Tropicana®, or Simply® to shame on any day.
Thirty years later, my nostalgic longing for the fresh, antioxidant-rich citrus that Ma Drayton grew in Florida led me to wonder, "Can I successfully grow citrus in the ground in Atlanta?" I knew that being in USDA hardiness zone 7B—or 8A according to more recent climate data—would make growing in-ground citrus challenging. Like some North Georgia gardeners, I had grown citrus in containers that I brought indoors during the winter. But these trees remained relatively small due to their confinement and, as a result, lacked the high yields that I wanted. I was determined to grow in-ground citrus.
After scouring the internet, I learned that one type of citrus potentially has promise for successful in-ground plantings in North Georgia: satsuma (Citrus unshiu). Satsumas are mandarin-type oranges that were originally cultivated in East Asia and are extremely cold tolerant. They can survive temperatures as cold as 14 degrees Fahrenheit without serious injury (Anderson & Ferguson, 2019), and some cultivars have survived temperatures as low as 9 degrees Fahrenheit (Burns, 2015). U.S. satsuma production initially began in Florida in 1876, and cultivation eventually spread throughout the Gulf Coast states, eventually coming to Georgia in the 1950s (Anderson & Ferguson, 2019; Rangus, 2021). However, hard winter freezes historically decimated Georgia's citrus groves. For this reason, I surmised that any in-ground planting in Atlanta would require use of a cold frame.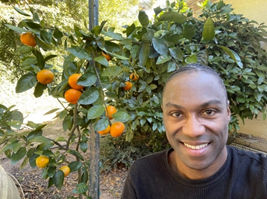 Besides cold winter temperatures, another major consideration for growing citrus in North Georgia is soil type. Citrus trees' requirement for well-drained soil is greater than that of most other fruit trees, which is why citrus thrives in sandy soils (Krewer & Powell, 2015). The heavy, red clay of North Georgia could be detrimental. So, I devised a way around this.
In April 2019, I purchased and planted an 'Owari' satsuma. I chose 'Owari' because, purportedly due to its superb taste, it is the most popular U.S.-grown satsuma cultivar. I planted the tree 8 feet away from my house, which would aid in protecting it from occasional single-degree temperatures during winter. I also amended the heavy clay soil to ensure excellent drainage. I dug a planting hole approximately 6 feet in diameter and 2 feet deep. I backfilled the hole using about half of the native clay soil amended with approximately 8 cubic feet of perlite, 4 cubic feet of topsoil, and 4 cubic feet of compost. As a conscientious master gardener, I followed all professional recommendations regarding tree care: stake the tree for initial support; avoid applying fertilizer during the first 3 months; water regularly as the tree becomes established; allow the soil to completely dry out between waterings after the tree becomes established; and remove blossoms for the first 2 years so that it can concentrate its energy on vegetative growth rather than fruit production.
Now, fast forward 2 years. In October 2021, my fruit began to ripen (Figure 1). During November and December, I harvested about 40 satsumas. Although my satsumas were not quite as sweet as the Valencia-type oranges that I picked for Daddy, they were tasty nonetheless! Because satsumas are naturally segmented, making them more ideal for fresh eating rather than juicing, I consumed all of my satsumas as fresh fruit rather than juice (Figure 2). Even now, I can almost taste the delectable nectar dripping from each seedless segment. Yum yum! I anticipate a much larger harvest next fall, when I will have enough satsumas for both eating and juicing. Interestingly, I have not yet used a cold frame because the coldest temperature experienced since planting has only been 19 degrees Fahrenheit.
Much has changed since the good ole' Central Florida days back in the 1980s. I am now a 41-year-old man whose Saturday mornings are full of homeowner responsibilities like cleaning and grocery shopping. Ma Drayton's orange tree that Daddy made me climb is no longer there. Daddy and Ma Drayton have joined the Ancestors. I live in North Georgia, away from the year-round warm weather and sandy soil that I played in as a boy. And, unlike in previous decades, Georgia farmers and gardeners are increasingly regarding in-ground citrus production as viable (Rangus, 2021). One thing that remains the same, however, is my love for citrus. And it is this love that makes me decidedly determined to see other North Georgia gardeners succeed at growing in-ground citrus, too.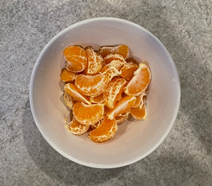 About the author: Dr. William L. Jeffries IV is a Central Fulton County Master Gardener who completed his University of Georgia Master Gardener Extension Volunteer training in December 2021. He is a native of Lake Wales, Florida.
References:
Andersen, P. C., and Ferguson, J. J. (2019, April 4). The satsuma mandarin. University of Florida, Institute of Food and Agricultural Sciences Extension. https://edis.ifas.ufl.edu/pdf/CH/CH11600.pdf
Burns, R. (2015, July 13). Arctic Frost satsuma mandarin hybrid named new Texas superstar. Extension Education in Fort Bend County. https://fortbend.agrilife.org/arctic-frost-satsuma-mandarin-hybrid-named-new-texas-superstar/
Krewer, G. W., and Powell, A. A. (2015, February 22). Citrus fruits for southern and coastal Georgia. University of Georgia Cooperative Extension. https://secure.caes.uga.edu/extension/publications/files/pdf/B%20804_4.PDF
Rangus, E. (2021, December 02). Red and black and…orange? University of Georgia Cooperative Extension, College of Agricultural and Environmental Sciences Newswire. https://newswire.caes.uga.edu/story/8812/seedless-citrus.html