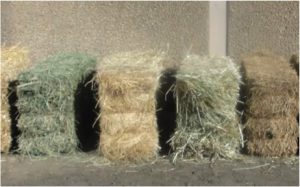 From the January 2019 Issue of the University of Minnesota Extension – Horse Newsletter….
CHOOSING ALTERNATIVE FEEDSTUFFS
By: Marcia Hathaway, PhD, University of Minnesota
Horse owners may be exploring alternative feedstuffs due to high hay costs, poor quality hay, and/or challenges associated with finding sufficient quantities of hay. When possible, quality hay should make up a large portion of a horse's diet. However, the following alternatives can replace hay, in partial or in whole, when needed. Always consider the pros and cons when selecting an appropriate alternative feedstuff, and before feeding, consult your an equine nutritionist and/or veterinarian.