By Will Lovett
Bacon County CEC
There are several perennial warm-season grasses that are native to the Eastern United States. The Native Warm Season Grasses (NWSG) most commonly used for forage are switchgrass, eastern gamagrass, indian grass, big bluestem and little bluestem. These NWSG are clump-forming, bunchgrasses that grow during the summer. They can provide good quality forage with reduced input cost, if a producer is willing to manage them correctly.
Native warm season grasses produce their growth from April to September. This warm season production period makes them very complementary to cool season grasses such as tall fescue. Grazing NWSG during the summer will reduce the effects of fescue toxicosis on livestock and can allow your farm to increase forage quality over a longer portion of the year. These grasses are deeply rooted and efficient users of water. This makes them very drought tolerate and useful to include as a portion of a farm's perennial forage base.
Native warm season grasses have very modest fertilization requirements. For forage production, pH should be maintained at a 5.5 or greater, phosphorus and potassium should be applied according to soil test recommendations (University of Tennessee literature indicates maintaining P and K in the "medium" soil test range). Nitrogen requirements are 50-75 pounds per acre.
The NWSG tend to be very efficient at utilizing these modest amounts of fertilization to produce forage yields that are quite comparable to bermudagrass. Yields for hay production tend to range from 3-6 tons per acre (Figure 1).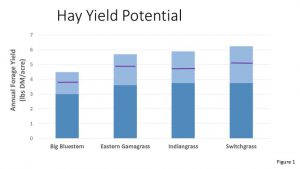 These native grasses are quite palatable to livestock and can produce respectable summer gains when grazed. Recent grazing trials at University of Tennessee Ag Research and Education Centers indicate 600 lb. stockers and 1,000 lb. replacement heifers both achieved respectable gains on native warm season grasses (Table 1).
Table 1. Beef cattle performance on native warm season grasses (Data from Univ. of TN).

Native warm season grasses have many advantages but do have several special considerations for establishment. A successfully established NWSG pasture or hayfield is a sizeable investment. Seed may cost $125 -$225 per acre, plus the cost of fertilizers, tillage, herbicides and planting. Some of the NWSG have fluffy appendages to the seed, which necessitates agitators in the drill's hopper box so that the seed properly flows out of the hopper. The native warm season grasses tend to have a high degree of seed dormancy, therefore, they germinate slowly. This characteristic along with limited herbicide options to use at planting make pre plant weed control and planning critical to successful stand establishment. By the second and third year, native warm season grass plants will be more tolerant of post emergent herbicides.
Grazing and haying management of native warm season grasses is different from other commonly used warm and cool season perennial grasses. These grasses are relatively tall growing and have leaf and stem sizes much larger than leaves and stems of commonly used forages such as bermudagrass or fescue. Additionally, the NWSG's growing points are further away from the soil surface, so minimum haying and grazing heights are also greater. To maintain a healthy stand target an 8-inch stubble height for hay production and 15 inch stand height for grazing. If stands are routinely grazed below this height, they will begin to thin and fail within a few years.
Native warm season grasses require proper planning for successful stand establishment and changes in haying equipment and grazing management to maintain stand longevity. However, NWSG are very productive in marginal soils and under lower input management, all while complementing perennial cool season forages and provide a hedge against drought.
There is more information on establishing and managing native grasses available at https://nativegrasses.utk.edu/, or contact your local county extension agent.