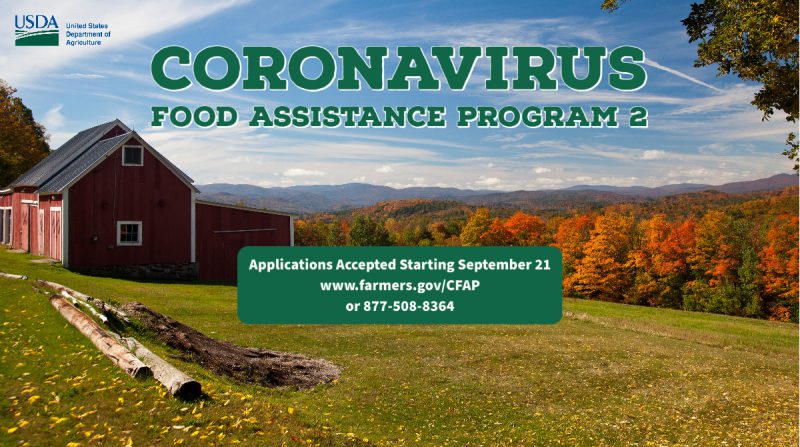 The United States Department of Agriculture is now taking applications for support payments through the Coronavirus Food Assistance Program Phase 2 (CFAP 2). Applications can be filed online or in person at your local Farm Service Agency office starting on September the 21, 2020 and the deadline is December 11, 2020. Farmers.gov Main Overview Page
"President Donald J. Trump and U.S. Secretary of Agriculture Sonny Perdue announced on September 17 that USDA will implement an expansion of the Coronavirus Food Assistance Program. Coronavirus Food Assistance Program 2, CFAP 2, will provide producers with financial assistance that gives them the ability to absorb some of the increased marketing costs associated with the COVID-19 pandemic." Quote from Farmers. gov website.
There are 3 types of commodities that are being considered under the CFAP 2 program.
Price trigger commodities are major commodities that meet a minimum five-percent price decline over a specified period of time.  Some examples are milk, livestock (cattle, swine, sheep), and row crops (cotton, corn, soybeans, sorghum, wheat etc.) Row Crop Payement Information
Flat-rate crops either do not meet the five-percent price decline trigger or do not have data available to calculate a price change. Examples are (peanuts, rice, millet, sesame, oats – all are harvested for grain. Forage grazing doesn't qualify.)
Sales commodities eligible for CFAP 2 include specialty crops, aquaculture, nursery crops and floriculture, and other commodities not included in the price trigger and flat-rate payment categories. Examples are (fruit, vegetables, tobacco, tree nuts, wool, nursery etc.) Specialty Crops Payment Information
The commodities listed above are not the only eligible commodities for each type. You can view a full list of eligible and ineligible commodities at this link https://www.farmers.gov/cfap/commodities.
USDA Payment Calculator Excel Sheet
Online Application – Producers with an eAuthentication account can now apply for CFAP 2 online. To register for an account, visit: www.farmers.gov/sign-in
Paper Application Printable Version
All of the links in this post are available on the main CFAP page.
For more information please contact the Evans County Extension Office at 912-739-1292 or your local Farm Service Agency Office.