It has been another interesting week in Colquitt County agriculture. Peanut harvest is in full swing across the county. Peanut growers need to monitor their disease situation because leaf spot is increasing in some fields. Cotton growers are keeping an eye on the tropical weather that could impact us next week. This situation needs to be monitored.
Tropical Depression 9 forms, heads towards the Southeast (Dr. Pam Knox):
Here is the latest information on the storm potentially headed our way from our climatologist Dr. Pam
Knox:
Overnight, Investigation 98 turned into Tropical Depression 9. It could become either Hermine or Ian
depending on another storm developing in the eastern Atlantic (no threat to us). That means the National
Hurricane Center is now issuing forecasts on the likely path of the storm. The good news is that the current cone puts the likely track of the storm over Florida in the next five days. If the storm followed the center of that track, the impacts on Georgia would be limited and would probably affect only the southeastern part of the state. In fact, if the storm stays on the east side of the track, we could see more cool and sunny conditions in the flow from the north around the back side of the storm. But if it moves along the west side of the cone, there is more concern for most of South and Central Georgia. Since the actual path of the storm is only in the cone about 2/3rd of the time, it could even shift farther west, so anyone in the southern half of the state, but especially the southeast, should be making appropriate plans just in case. Since the storm is just developing, changes to the track are likely over the next couple of days.
I will be watching the storm over the weekend but we are unlikely to see any impacts in Georgia until Tuesday morning or later, so I will wait to post an update until Monday morning. If you are likely to be affected by TD9, then I encourage you to monitor the National Hurricane Center for path information and your local National Weather Service and Emergency Managers for local impacts and concerns.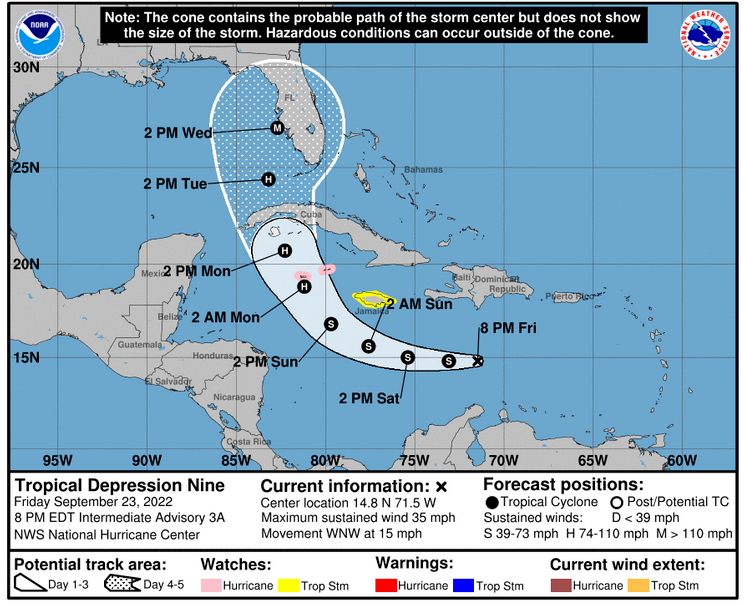 Peanuts: We have had another busy week at the hull scrape maturity clinics. Georgia 06G maturity is running in the 140s. Peanut growers need to watch their soil moisture. Wes Porter, UGA Irrigation Specialist suggests " If they still have at least 5-7 days before digging then applying one or more irrigation applications to crop. Our conditions have caused a rapid depletion of our soil moisture, so keep that in mind as we are making final decisions that you will most likely need some more irrigation on your peanuts."
How much do I need to irrigate? When I asked Scott Monfort, UGA Peanut Agronomist, how much to apply for the last irrigation event, he suggested 0.5′′ to 0.75′′ if peanut digging is within 5-7 days.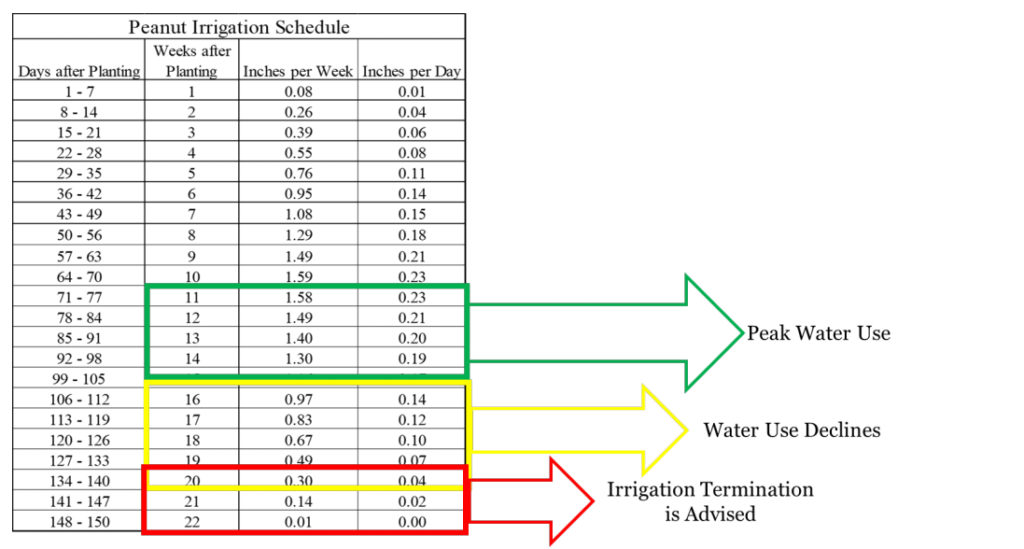 Mr. Kichler, my peanut vines are going backward…. I get questions about peanut vine health from growers every year. Wilting or dying vines can be caused by several factors such as tomato spotted wilt, white mold or Diplodia collar rot. Below are a few words about some of these issues from Dr. Bob Kemerait, UGA Plant Pathologist.
Late-season symptoms of peanut affected by tomato spotted wilt disease can be confusing.  The stunting and common foliar  "ring spots" and "oak leaves" often associated with tomato spotted wilt may be much evident, replaced by a general yellowing and wilt, possibly with tip dieback, of plants scattered across a field.
The general wilt can be confusing and many many times growers will be concerned that they are seeing an explosion of white mold and a failure of a white mold program. Although white mold can be observed on plants also affected by tomato spotted wilt, the late-season symptoms described above a very often the result of spotted wilt alone.
The first three pictures are from a field yesterday where the grower was worried about, "my peanuts are giving up". It was widespread spotted wilt.
Picture 1 below shows general wilt and decline.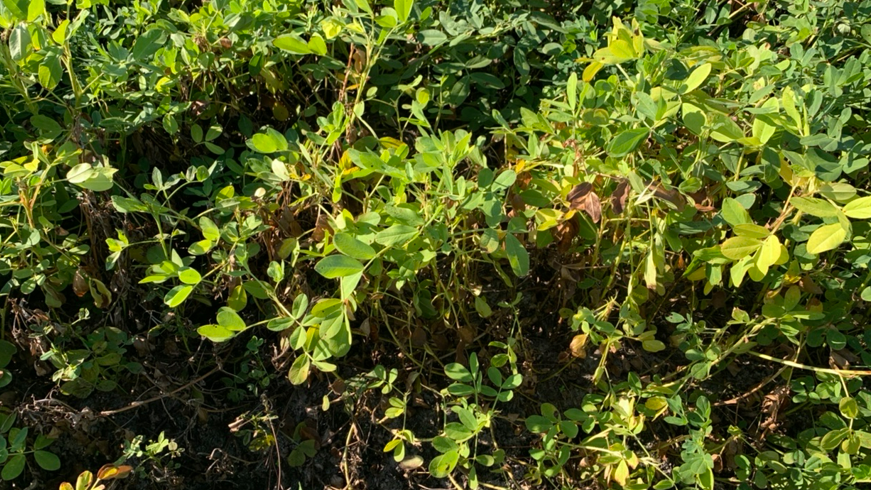 Picture 2 below shows black or slate-gray limbs covered with rough, erumpent pycnidia- this is Diplodia collar rot which is very very often associated with plants associated with spotted wilt.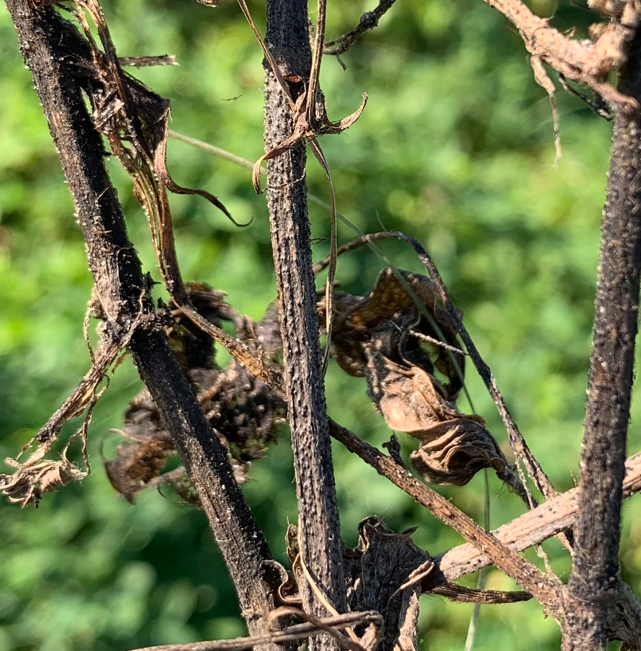 Picture 3: necrotic dead taproot associated with late season tomato spotted wilt. White mold typically does NOT kill the taproot.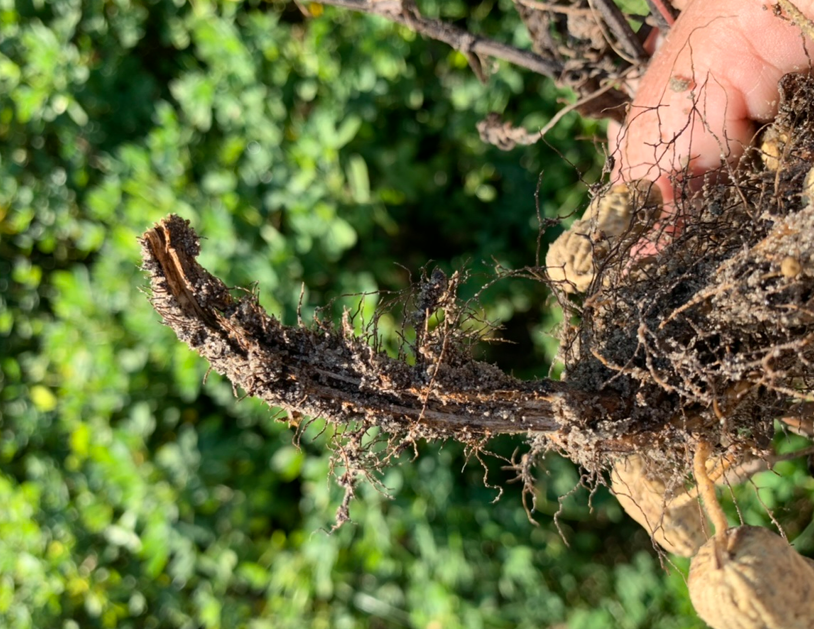 Cotton: Growers are monitoring the tropical situation while making defoliation plans. Below are the "Three Way" Defoliation rates for cotton defoliation.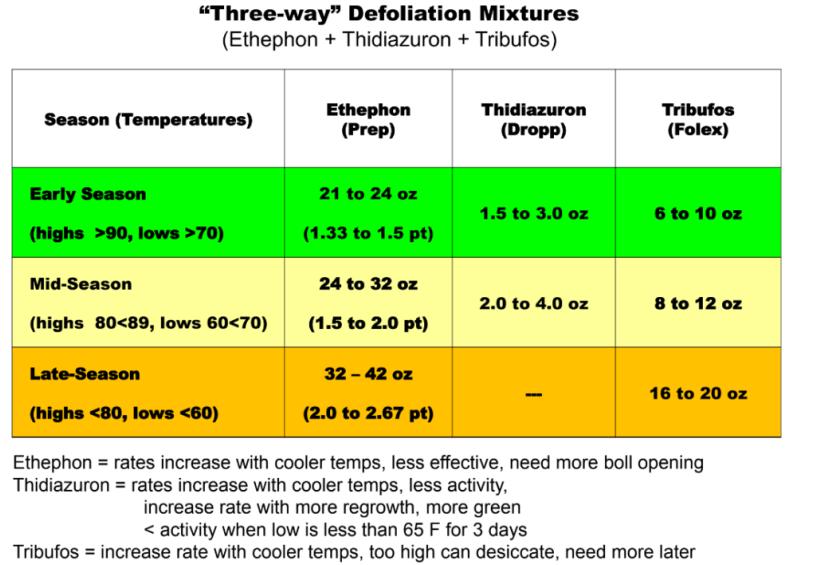 What if my first defoliation shot does not work? Sometimes we have to apply a second defoliation application to cotton. Defoliants should be applied in a minimum spray volume of 5 gal/A by
air and 10–20 gal/A by ground. Reduced performance issues are often related to low spray volume and poor canopy penetration. First we have to wait long enough for the first shot to work (10-14 days). If you have regrowth growing in the bottom of the plant and need to apply a second shot then you might want to consider 2-3 oz of TDZ + 4 oz Folex. If you have old, mature leaves in the bottom of the plant, then you might want to consider 1 pt Prep + 4 oz Folex.
If you have any questions please feel free to contact us at the Colquitt County Extension office.
Jeremy M. Kichler
Colquitt County Extension Coordinator