Topics this week include Tropical spiderwort, thrips, residual herbicides, pecan casebearer, and hay. Rain over the last week has presented numerous challenges for cotton and peanut producers. Currently In Colquitt County, it is estimated that 40-50 percent of cotton crop and 50-60% of the peanut crop is planted. Corn crop ranges from V3 to V10. Pecan growers are making plans for casebearer applications.
Benghal dayflower aka Tropical spiderwort is already up! (Stanley Culpepper): Over the past few
seasons, tropical spiderwort has regained its status of being a major pest for many Georgia cotton farmers.
To control this weed, one must understand the importance of placing residual herbicides strategically
throughout the growing season beginning at planting. However, the most important herbicide application may be the last one where an effective residual product must be applied in a manner where it contacts the soil… yes, the best approach by far is to use a layby rig or hooded sprayer applying the herbicide where it needs to go which is not overtop of the crop. Remember this weed can grow in the dark, so the approach of shading it out with the cotton crop is not as effective as it is on many other weeds.
Activity of the more commonly used cotton herbicides on spiderwort is discussed below; contact your local county Extension agent for a season-long program approach depending on your choice of technology being grown.
Consider the following when building a program:
1. Residual activity from Warrant and Dual Magnum are critical to success; limited data suggests
Outlook is also effective.
2. Gramoxone and 2,4-D are very effective controlling emerged plants with timely
applications.
3. Dicamba is not overly effective but when mixed with glyphosate and applied sequentially, control of
emerged plants is often acceptable depending on the weeds size when the first application is made.
4. Roundup + Staple remains quite effective on emerged plants if they are small.
5. Liberty is not very effective.
6. Layby materials such as diuron + MSMA, glyphosate + diuron, or any mixture with Aim can be
quite effective. Remember to include a residual herbicide with the layby application and follow all
application requirements
What about controlling Tropical Spiderwort in Peanut?
SUGGESTED HERBICIDE PROGRAMS FOR THE CONTROL OF TROPICAL SPIDERWORT (BENGHAL DAYFLOWER) IN PEANUT***
PROGRAM 1
a) PRE Immediately After Planting: Valor at 3 oz/A + Dual Magnum 7.62EC or generic metolachlor (Stalwart, Parallel PCS, Me-Too-Lachlor) at 1 pt/A or Warrant 3ME at 3 pt/A or Outlook 6EC @ 12.8 oz/A and
b) POST when spiderwort is 1–2″ tall: Cadre/Impose 2AS at 4 oz/A or Strongarm 84WG at 0.45 oz/A + Dual Magnum 7.62EC or generic metolachlor (Stalwart, Parallel PCS, Me-Too-Lachlor) at 1 pt/A or Warrant 3ME at 3 pt/A or Zidua 4.17SC @ 2.5 oz/A or Anthem Flex 4SC @ 3 oz/A.
* At plant applications of Dual/Warrant/Outlook are more effective for TSW/BD control at later peanut planting dates (May 15 or later) because the majority of emergence occurs after June 1.
PROGRAM 2
a) AT-CRACK (within 28 days after peanut cracking): Apply paraquat 2SL formulations at 12 oz/A A or paraquat 3SL formulations at 8 oz/A Storm 4EC at 16 oz/A or Basagran 4EC @ 8 oz/A + Dual Magnum 7.62EC or generic metolachlor (Stalwart, Parallel PCS, Me-Too-Lachlor) at 1 pt/A or Warrant 3ME at 3 pt/A or Zidua 4.17SC @ 2.5 oz/A or Anthem Flex 4Sc @ 3 oz/A and
b) POST (~2–3 weeks after at-crack spray): Apply Cadre/Impose 2AS at 4 oz/A or Strongarm 84WG at 0.45 oz/A + Dual Magnum 7.62EC or generic metolachlor (Stalwart, Parallel PCS, Me-Too-Lachlor) at 1 pt/A or Warrant 3ME at 3 pt/A or Zidua 4.17SC @ 2.5 oz/A or Anthem Flex 4SC @ 3 oz/A.
* When using Dual Magnum/generics or Outlook in combination with Cadre/Impose, paraquat, or Strongarm, additional spray adjuvants (NIS, COC) are not necessary.
The maximum amount/A/year of Dual Magnum that can be applied is 2.8 pt/A. The maximum amount/A/year of Stalwart, Parallel PCS, or Me-To-Lachlor that can be applied is 2.66 pt/A.
The maximum amount of Warrant that can be applied PRE + POST is 6 pt/A/year.
Maximum amount of Zidua that can be applied is 4 oz/A/year of 85WG or 6.5 oz/A/year of 4.17SC. When Warrant or Zidua is applied POST, a NIS (0.25% v/v) is needed.
Maximum amount of Outlook that can be appplied is 21 oz/A/year. Maximum amount of Anthem Flex that can be applied is 9.12 oz/A/year.
** Zidua/Anthem Flex should not be applied prior to peanut emergence due to potential injury concerns.
***Twin rows and conventional tillage (plowing) are also useful for the management of tropical spiderwort/ Benghal dayflower.
(Source: 2021 UGA Pest Management Handbook)
Value of the at-plant residual herbicide must be understood for family farm sustainability (Stanley Culpepper):
I had this question from a grower last week about why is it important to use two residual herbicides at cotton planting. Research during 2017, 2018, 2019, and 2020 showed preemergence (PRE) herbicides, if activated, reduced the number of Palmer amaranth needing to be controlled by postemergence herbicides during the ENTIRE season by over 98% (Fig 1). At-plant applications using two residual herbicides (different chemistries) that are effective on Palmer amaranth are paramount in reducing resistance to topically applied herbicides like Liberty, 2,4-D choline, and dicamba. Additionally, at-plant herbicides should alleviate any potential for early-season weed competition reducing cotton yield. Table 1 defines several preemergence options, but keep in mind that other effective options exist including Cotoran mixtures or preplant incorporated yellow herbicides followed by a PRE herbicide. Without implementing these residual herbicides at planting, the "life" expectancy of topically applied herbicides for some growers is likely less than three years.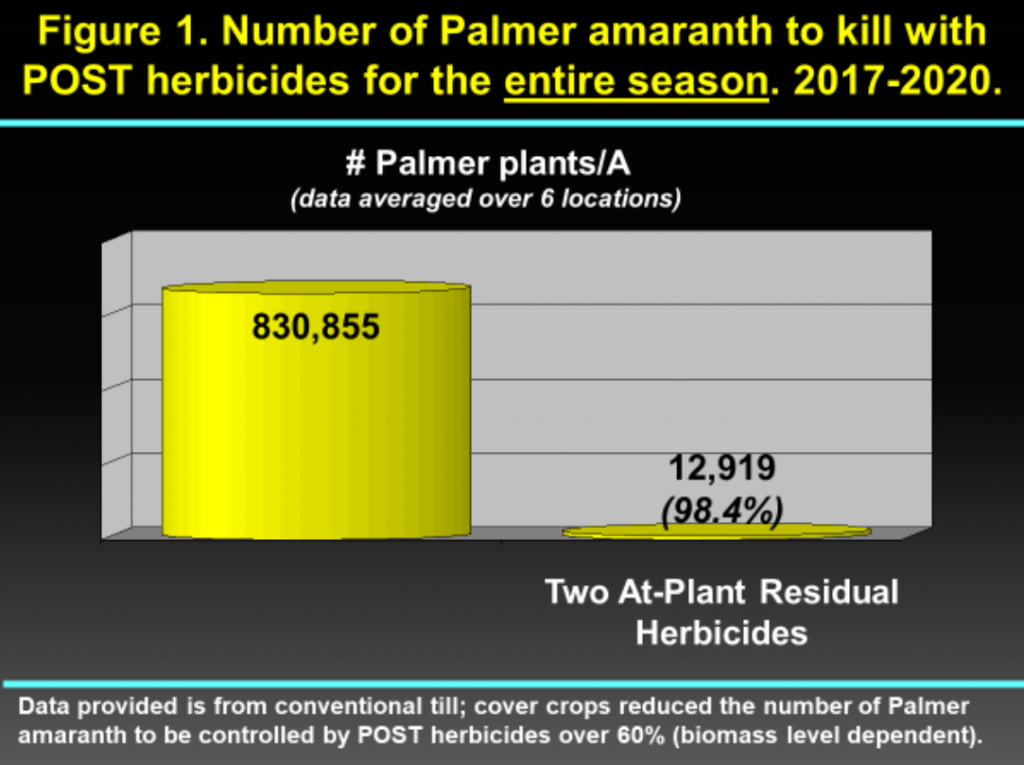 Scouting thrips and supplemental foliar sprays (Phillip Roberts): Vigor or the rate of seedling growth influences seedling injury from thrips. Thrips initially feed on the underside of cotyledons; damaged cotyledons will appear silvery on the lower surface of cotyledons. The majority of thrips eggs are laid on the cotyledons and it takes about 5-6 days for an egg to hatch. Once a terminal is present thrips will move to and feed on unfurled leaves in the terminal. As the leaves unfurl and expand the characteristic crinkling and malformations become obvious (Figure 1). A rapidly growing seedling may unfurl a true leaf every 3 days where as a seedling which is stressed may take 4-5 days or more to unfurl a new leaf. Again, thrips are feeding on the unfurled leaves so thrips feed for a more extended time on the same unfurled leaf of a slow growing or stressed plant compared with a rapidly growing plant. The same infestation of thrips will create more damage on a slow growing plant.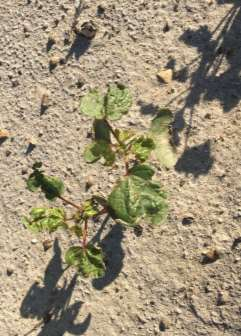 The decision to use a foliar insecticide to supplement at plant insecticides for thrips control should be based on scouting. Scout thrips by randomly pulling a seedling and "slapping" the seedling against a piece of paper or box to dislodge the thrips (Figure 2).
There will likely be sand and other debris on the paper. Thrips will begin to move within a few seconds and will cling to the paper whereas sand and other debris will slide when you tilt the paper. Count the number of thrips per plant after each sample. Be observant for immature thrips when making counts. Immature thrips are wingless and crème colored (Figure 3). Adult thrips are usually brownish or almost black in appearance and have wings (depends on species, tobacco thrips is the most common thrips species infesting cotton and adults will be dark brown or black).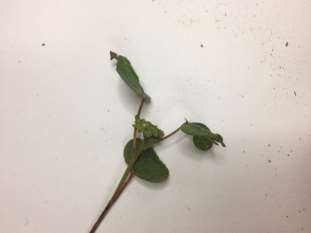 Do this on several plants and determine the average number of thrips per plant. The threshold for thrips is 2-3 thrips per plant with immatures present. The presence of numerous immature thrips suggests that the at-plant insecticide is no longer providing acceptable control (i.e. thrips eggs laid on the plant, eggs hatched, and immature thrips are surviving).
Foliar insecticide options include the systemic insecticides Orthene, Bidrin, and dimethoate. Note that these products are systemic. Pyrethroids will not provide acceptable control thrips in cotton.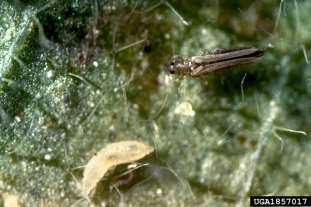 Figure 3. Immature thrips are crème colored and
wingless (bottom). Adults are brownish with wings
(top). Image by Jack T. Reed, Mississippi State
University, Bugwood.org
Below are results from the NC State Thrips Prediction Model for Moultrie, GA assuming a planting date of May 13, 2021.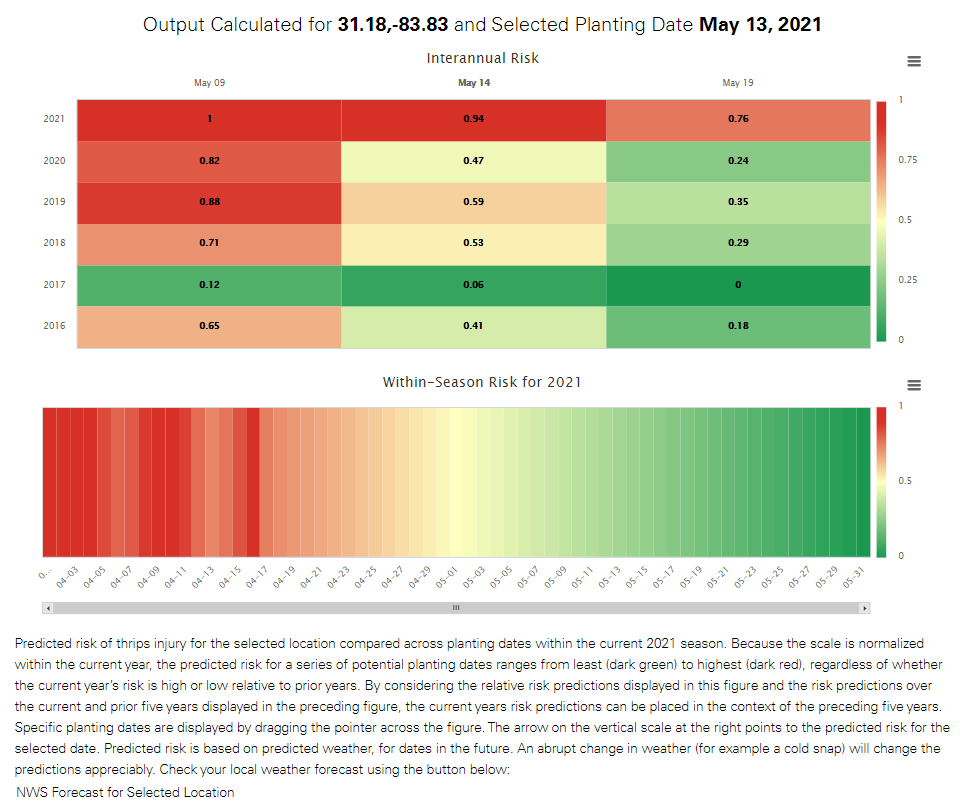 The Georgia – Florida Tobacco Tour will be conducted June 7 – 9, 2021 Moore
Please see the information at the link below for the UGA Tobacco Website https://tobacco.caes.uga.edu/tours/2021-ga-fl-tobaccotour.html which provides the initial information on tour schedule and registration. Please register from the website and return to the site prior to the tour for more detailed information on the tour schedule and directions. Make your own hotel reservations using the telephone numbers provided by May 18, 2021 with reference to the "Tobacco Tour" block of rooms in Tifton. Rooms in Waycross are not blocked.
Pecan Nut Casebearer Management
I have been getting a call or two about pecan nut casebearer. Several county agents have been participating in a pecan nut casebearer (PNC) monitoring project across Georgia. I have been monitoring a location in Colquitt County and started catching PNC moths on May 2. If you would like an update on PNC activity then go the link below.
The PNC Forecast for the Colquitt County location is illustrated below.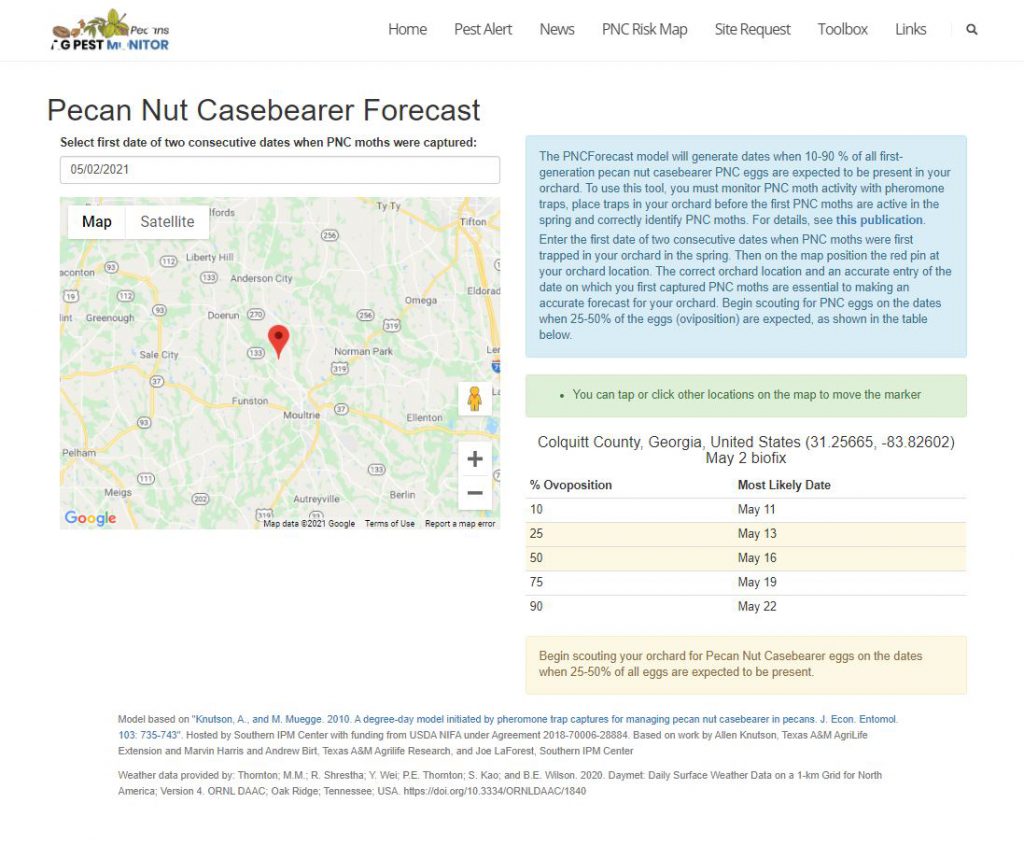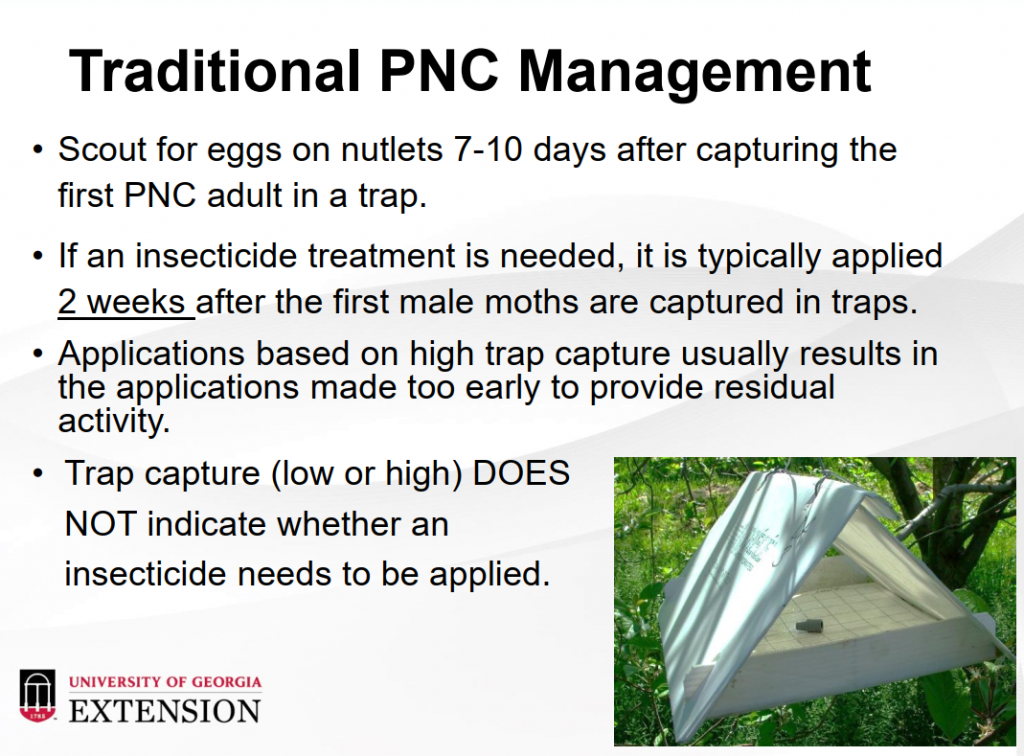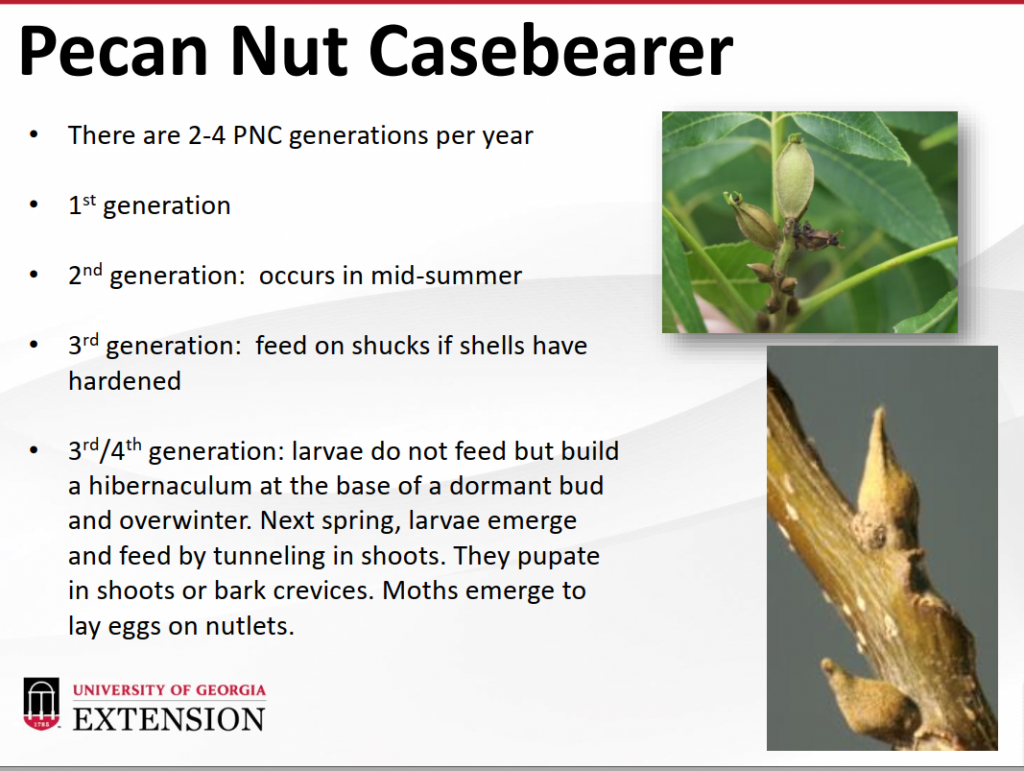 If you have any questions please contact your local county Extension agent.
The blog post below has more information on thix subject.
2021 Pecan Nut Casebearer Monitoring
Apr 29, 2021 | Written by Andrew Sawyer
UGA Extension agents, USDA collaborators and pecan growers across 14 pecan-growing counties in Georgia are monitoring for pecan nut casebearer again this year. We started on April 12th using pheromone-baited traps (Figure 1). Agents and entomologists are checking traps each day until moths are captured for two consecutive days. The first date of consistent captures is what we refer to as the biofix date. READ MORE
Hay and Baleage Virtual Short Course May 28th from 9 am to Noon Baxter
Attached is the flyer for our upcoming Hay and Baleage Virtual Short course on May 28th from 9-12 am. The event is free but preregistration is required. Producers can register by scanning the code on the flyer below or visiting : https://georgiaforages.caes.uga.edu/calendar/event.html?eventid=1762&event=Virtual-Hay-and-Baleage-Shortcourse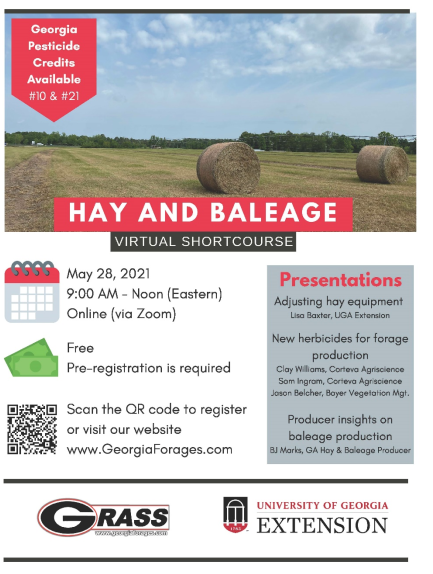 Peanut Entomology Information Abney
May is usually all about thrips. Here are some things to know:
1. Thrips abundance and movement are affected by weather. A model developed at NC State University can be used to view predicted thrips infestation in your area. https://products.climate.ncsu.edu/ag/cottontip/
2. An in-furrow insecticide application is recommended by UGA for thrips management in peanut. The options are: phorate (Thimet), aldicarb (AgLogic), and imidacloprid (Admire Pro and others).
a. Acephate (Orthene) is NOT LABELED as an in-furrow liquid application in GA peanut.
b. Phorate is the only insecticide known to reduce the risk of Tomato spotted wilt virus.
3. Velum and Velum Total are NOT the same. Velum does not contain imidacloprid and will NOT control thrips. Someone will make this mistake in 2021. If you observe severe thrips injury in a field treated with "Velum Total", check the container to see if Velum was applied instead.
4. If you are a new to using Thimet here is what it looks like below. You will see this in the field, and you need to know what it is. The severity of Thimet burn varies but it does not adversely affect yield.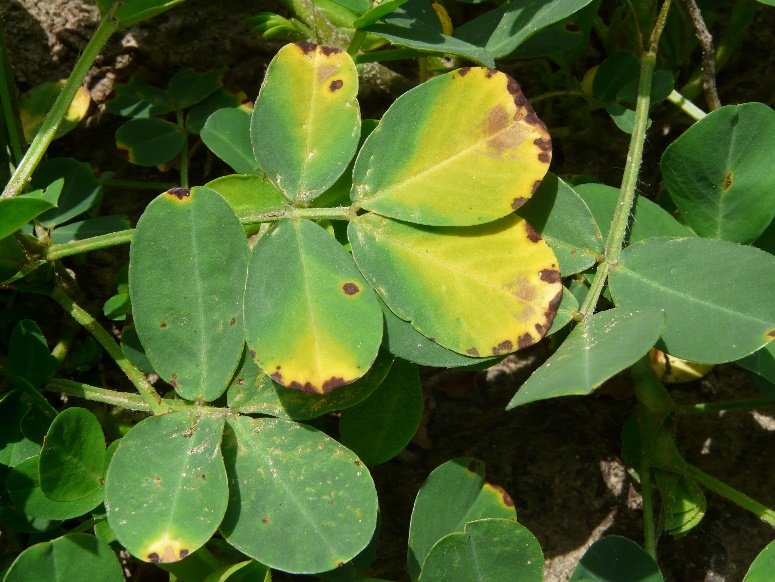 5. Peanut can and will quickly grow out of severe thrips injury when conditions are favorable (warm with adequate soil moisture). Visible thrips injury is usually the worst between 28 and 35 days after planting.
6. Thrips transmit tomato spotted wilt virus. The only way a peanut plant can get the virus is from thrips feeding on it. Everything that can be done to lessen the incidence of TSWV is done before the row closes; once the seed is buried, there is nothing more to do. If May is hot and dry we can expect to see some lesser cornstalk borers by the end of the month. They seem to appear first in Southwest GA, but no area of the state is immune. Check out this video for tips on scouting for LCB early in the season.
https://www.youtube.com/watch?v=EAtivdqATV0
It hasn't happened much in recent years, but we can get high numbers of tobacco budworm in seedling peanut. As long as fields are being scouted, we should not have a problem. Infestations that are allowed to continue in non-scouted fields will result in severe defoliation.
What else did we do this week??
We planted a couple of on farm cotton demonstrations and sprayed a corn fungicide plot this week…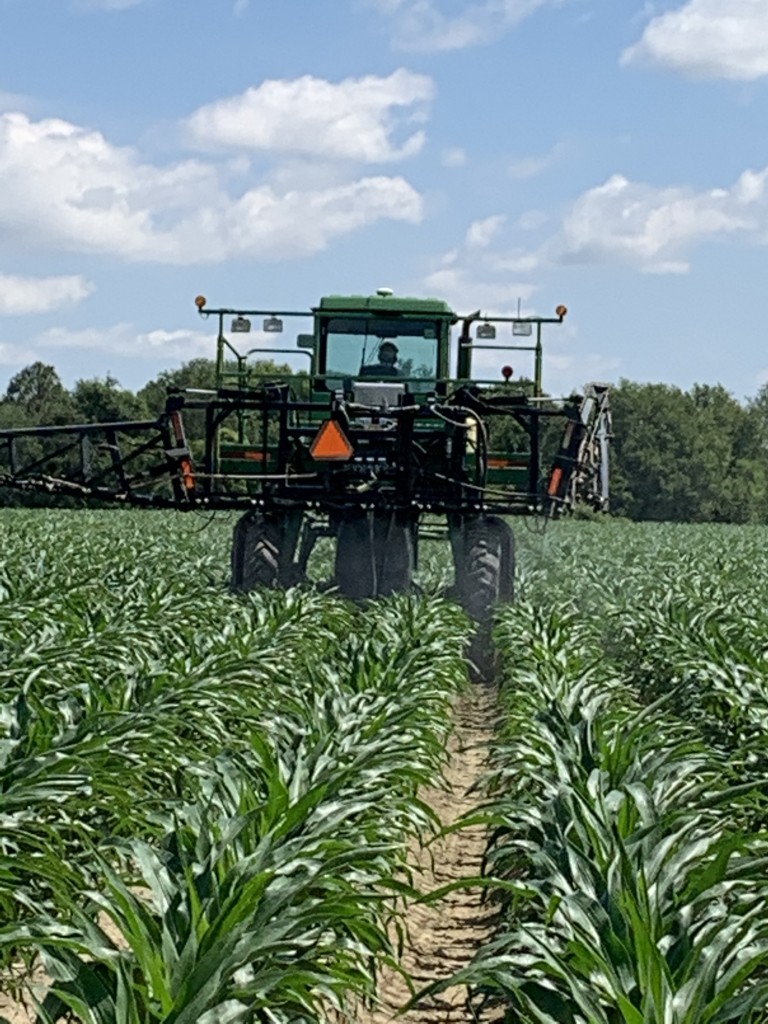 Have a good weekend and if you have any questions please contact your local county agent.
Thank you
Jeremy M. Kichler
Colquitt County Extension Coordinator 229-921-1977