In the last two weeks I have received a couple of emails asking me about a new hurricane insurance program that is being offered to producers which will help cover agricultural losses in case of a hurricane passing over their farm. I can't give you advice on whether or not it would be worth it, because you need to factor in the cost, where you are in relation to the coasts, how much you like to gamble, and your exposure to losses. But I can provide some insight into how often hurricanes hit Georgia so that you can make an more informed decision. (I think the sign-up deadline was April 30, but you can keep this in mind for next year if it is offered again.)
According to a fact sheet that was provided to me:
The Hurricane Insurance Protection — Wind Index (HIP-WI) Endorsement covers a portion of the deductible of the underlying crop insurance policy when the county, or a county adjacent to it, is within the area of sustained hurricane-force winds from a named hurricane that are published by the National Hurricane Center (NHC) at the National Oceanic and Atmospheric Administration (NOAA). The fact sheet provides a map of counties that are included in the program, which are all within a certain distance of the Atlantic or Gulf Coast and don't include more inland areas. I can send you a copy of the fact sheet if you need one.
The key things to keep in mind are that it must be a named hurricane, it must be in a county (or adjacent county) that has been designated within the swath of counties which experienced hurricane-force winds, and it is only applicable for sustained winds of hurricane force, not wind gusts (which are usually higher than the sustained winds). So you could not collect from this policy for any tropical storm, or any storm which is not named, or in any area where the sustained winds are below hurricane-force (74 mph). Obviously it does not apply for tornadoes or straight-line winds, no matter how strong they are.
Below is a graph of how often a tropical storm or hurricane passes through Georgia (thanks to the State of Georgia Climate Office for providing it). Note that in the last 70 years, Georgia has had one storm with sustained hurricane-force winds entering the state per decade in most decades, and two of those decades had none at all. However, earlier in the period, the number of hurricanes that entered Georgia was quite a bit larger, particularly in the 1890's when several terrible storms entered Georgia from the Atlantic Ocean, causing tremendous damage from winds and even more from storm surge. It would not surprise me if we go back into a more active pattern at some point, but I can't tell you when that might happen.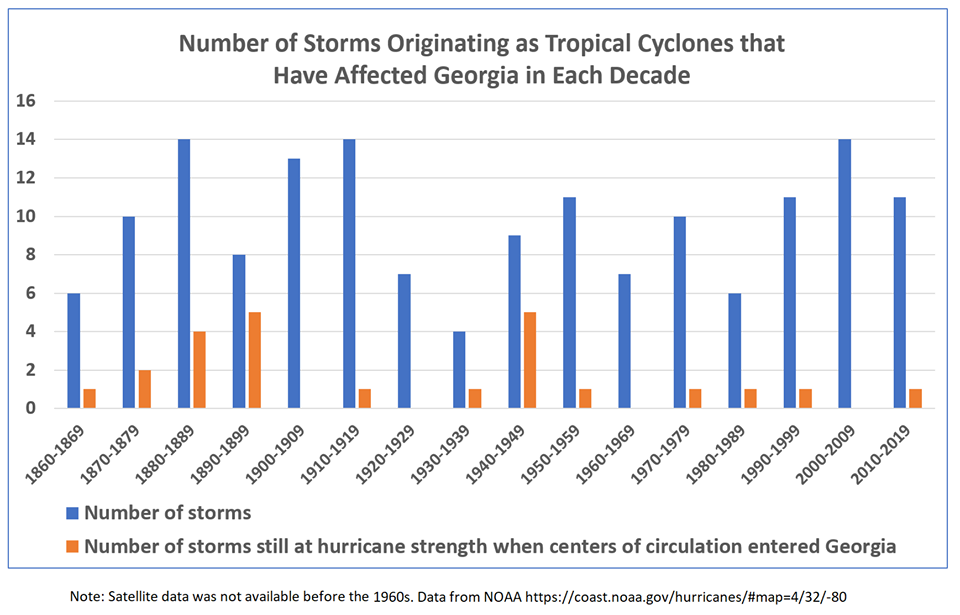 Next, consider the coverage of sustained hurricane-force winds. Below is a map (from IFAS) which identifies the counties in Florida and Georgia that experienced sustained hurricane winds in Hurricane Michael in 2018. Note that the number of Georgia counties that were affected by sustained hurricane force winds (Category 1 or higher) is relatively small and confined to a narrow strip stretching northeast from the southwestern corner of the state where Michael entered Georgia. Even if you add in the number of adjacent counties, it is not a large part of the state. The area over which damage occurred is much larger. Also note that damaging storms like Irma were never hurricanes over Georgia so would not be covered by this policy no matter how much damage they did.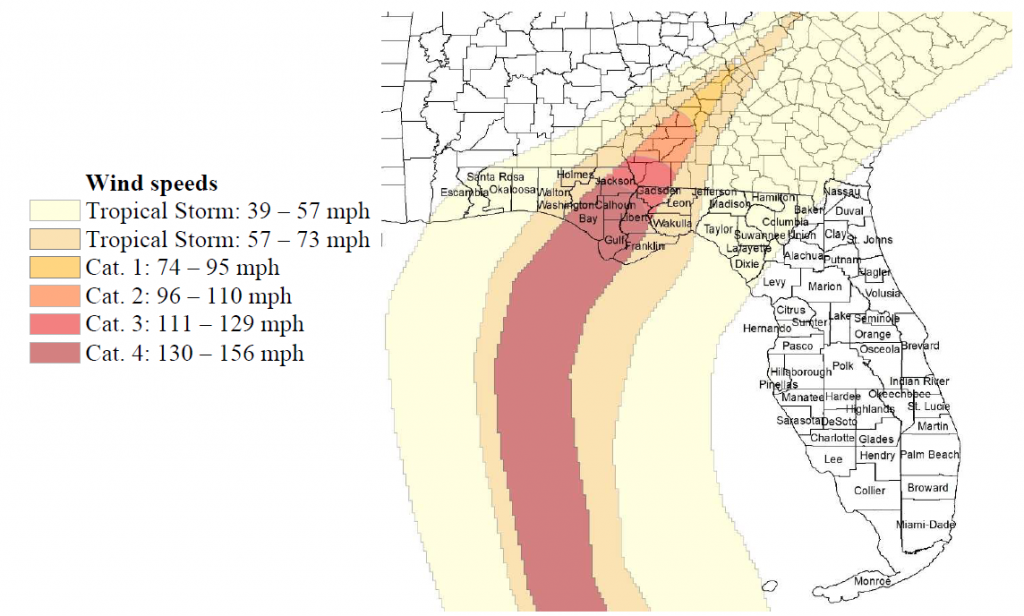 If you want to know where hurricanes have previously tracked over Georgia in the historical record, there is a nice NOAA interactive tool online that can help. You can go to this link to view all the hurricanes that have passed over Georgia or use it to pick a smaller or different area to search. The example for Georgia is below. Note that only the parts of the tracks where they were actually hurricanes would have been eligible for payment if the storm had happened when you had coverage.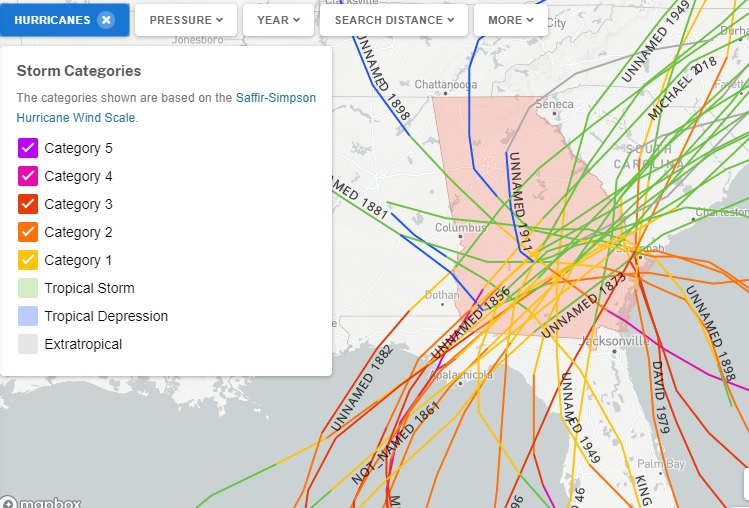 Hope this helps cut through some of the confusion, and feel free to contact me if you need more information.