The rain that we have had this week has helped improve soil moisture across the region (at least for those areas that had the rain) and should halt the expansion of drought in those areas in the Drought Monitor. Since the cut-off time for the DM was Tuesday morning, this week's DM (coming out tomorrow morning) may not show much improvement, but more would be likely to show up in the DM next week. A few small areas of the region got over 5 inches of rain in the last 24 hours (including the CoCoRaHS station 10 miles NNW of Jesup, which got 5.56 inches), but a much wider area got 2-3 inches, especially in central and south Georgia. The map below shows the total rainfall for the last 7 days from https://water.weather.gov/precip.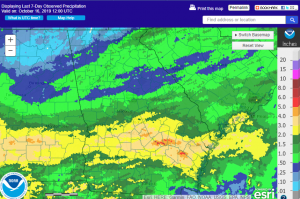 Now that the pattern has shifted, we are moving back into a rainier regime. Our next system is likely to be related to a tropical system which is organizing down in the western Gulf of Mexico and is expected to traverse somewhere in Georgia early this coming weekend. While the timing is a little bit like Hurricane Michael, none of the forecasts show signs of development that look anything like Michael did last year, so that should not be a concern to folks in the Southeast. Since the system is pretty disorganized, the model paths are quite scattered and it is not clear at this point if it will go over southern or northern parts of Georgia. That, of course, will make a difference for who sees the most rain, so you will want to keep an eye on that if you have concerns about flooding or even just wet fields for harvesting. The forecast models put us in two more rounds of wet weather on Tuesday-Wednesday and Thursday-Friday next week before high pressure returns to the area, so there won't be a lot of dry weather for the next 8 days or so. The timing of all of these systems is subject to change as the forecasts get closer to real time.
You can read more about the tropics at Brian McNolty's blog here.