Summer rainfall can be highly variable in space and time. You've probably all seen a shaft of rain covering part of your town while bypassing other areas, or compared rainfall amounts with neighbors and found quite a difference from your own. If you are monitoring a county for rainfall amounts or have fields scattered over a wide area, how do you keep track of the rain at multiple locations?
The best way, of course, is to have multiple rain gauges at your fields which you read daily (or have someone else do it) to keep track of the moisture your field is getting. (If you join CoCoRaHS you can add your observation to thousands of others around the US every day.) But that still does not give a good spatial picture of how the rainfall is varying unless you have a lot of gauges. Here are a couple of sources that you can use.
For real-time rainfall accumulations over space you can use the National Weather Service radar analysis from their local radar page (get to it from https://radar.weather.gov and use the storm total rainfall on the left menu). Here is tonight's screen capture of the storm rainfall accumulated since this morning in Athens GA. My husband was on campus where they got over 2 inches in an hour and the streets were flooding, while in southeast Clarke County we had only about an inch, and some areas got much less than that. Radar analysis is not perfect because sometimes the rain evaporates before it hits the ground, and sometimes the radar beam overshoots the rain clouds, especially if the rain is shallow and far from the radar site.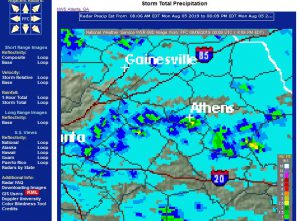 These accumulation maps are started over about once a day, although occasionally in rainy conditions they may accumulate for several days.
For longer time periods, there are two sources I use. One is the High Plains Regional Climate Center, which produces rainfall accumulation maps for 7 days and longer time periods for different areas of the country. You can find them at https://hprcc.unl.edu/maps.php?map=ACISClimateMaps. These are static maps based on surface station data but very easy to use and also have historical data.
The other site I use is a different NWS product from https://water.weather.gov/precip/, which is a zoomable map that is also radar-based (with all the good and bad issues radar data has). It allows you to add state and county outlines and pick from different accumulation periods. The map below shows the 30-day departure from normal rainfall for Georgia which highlights how dry the past month has been in most areas. Since it is zoomable, you can drill down to your county or local area, although if you zoom too much the result is pixelated due to the radar resolution.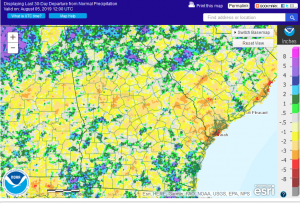 Of course there are also other sources of rainfall maps that are available online. The UGA Weather Network has a station-based map which shows the rainfall at the 86 stations around the state smoothed by a graphics program, but because it is station based, the accuracy depends on how close together the stations are, and in some areas it may not be very spatially accurate. If you have another source you like, please send it to me at pknox@uga.edu and I will add it below. Thanks!