The National Hurricane Center has declared that the area of interest they've been watching in the eastern Atlantic Ocean has a closed circulation by looking at satellite wind data.  They have identified it as Tropical Depression 4.  Models suggest that it will continue to strengthen during the day today and should become Tropical Storm Danny later tonight or tomorrow.
Will it hit the Southeast?  Of course, it is far too early to say.  The 5-day forecast cone is shown below.  There is a lot of wind shear over the Caribbean Sea due to El Nino which may affect the development of the storm as it moves towards that area.  If it holds together, the earliest it could affect the Southeast would be late next week.  If it moves near Puerto Rico, it could bring some sorely needed drought relief to the island, which has been plagued by dry conditions in recent weeks.
If you are interested in following all the updates on tropical weather, I use http://www.spaghettimodels.com and http://www.tropicaltidbits.com, but there are many more sites.  The official site is the National Hurricane Center at http://www.nhc.noaa.gov.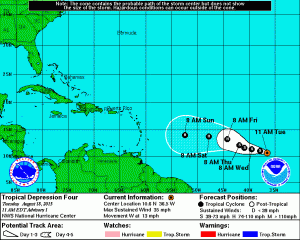 own below.