Jeff Masters of Weather Underground had several entries in his blog today about worrisome events happening around the world.  One of the blog postings was on a new all-time May record high temperature for Europe.  You can see the map below from his posting.  This is the second time this month that the all-time May record was broken for the entire continent!  The highest temperature reported was 109.2 F at Carcaixent in Valencia, Spain.  You can read his blog at http://www.wunderground.com/blog/JeffMasters/comment.html?entrynum=2987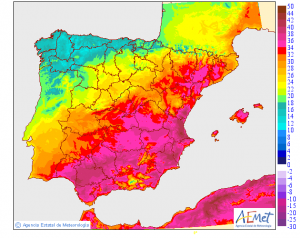 A study reported in late April by Yahoo News from the journal Nature Climate Change indicates that up to 75% of the extremely hot temperatures overall may be attributed to human-induced changes in climate related to greenhouse gases.  That article can be found at http://news.yahoo.com/study-blames-global-warming-75-percent-very-hot-150244103.html.
Ironically, a separate Yahoo News article recently discussed the impacts of the current El Nino on European temperatures and concluded that it may cause colder than normal temperatures in Europe next winter due to global weather patterns set up by the combination of the El Nino and snow melt off of Greenland.  This pattern could allow colder air to flow south from the polar regions.  That article is at http://news.yahoo.com/el-nino-arctic-ice-melt-could-mean-colder-151758379.html.