Weather observations are the backbone of understanding the climate system.  The earliest modern weather observations in the United States were taken by surgeons in the forts scattered around the country.  Later in the 1800's, volunteer observers worked for the Smithsonian to collect weather measurements.  Now, there are many different types of weather and climate observations made, from a variety of platforms including satellites, radar, automated weather networks, and even ships and airplanes.  All of them have various degrees of accuracy but all are useful for helping to run forecast models as well as monitor current conditions for hazardous weather.
With the recent snowstorms that have plagued parts of the eastern US, there have been several articles which describe the work of the National Weather Service cooperative observers, who take official measurements of temperature and precipitation around the country.  You can read one article about the coop observers and what they have to do to get accurate snow measurements at Government Executive here.
NOAA also produced an article discussing a new observations database called MADIS which will ingest data from more than 64,000 sources, including not only traditional weather observers but also road sensors, university networks, government soil sensors and other sources to provide a much more complete picture of the weather and climate than has been seen in the past.  It's not an easy job to put all of those sources together, because each has its own format and quality level.  A description of the MADIS system and the data it contains can be found here.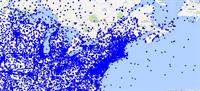 If you are interested in participating as a volunteer observer, here are some sites that need your help: