Winston Eason of Clayton County wrote me this morning asking about finding maps for average chill hours for a class he is teaching on backyard fruit trees and orchards.  So far I have not been successful in finding a Georgia-specific map on average chill hours, but I did run across several other sources of information that you might find useful.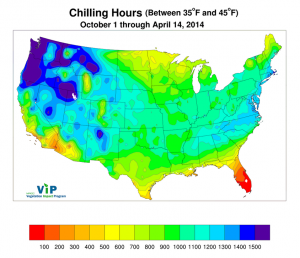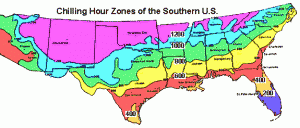 The second map above is from https://plant-shed.com/planting-fruit-trees-in-north-texas/.
To get current chill hours, there are a variety of sources you can use.
The Georgia Weather Network has a tabulation of stations with current accumulations since October 1 at https://weather.uga.edu/aemn/cgi-bin/AEMN.pl?site=AAAA&report=ci.
The MidwesternRegional Climate Center has a current map similar to the average map posted above at https://mrcc.isws.illinois.edu/VIP/chillHours_maps/chillHours.html.  This map shows that most of Georgia is near normal for this winter.
AgroClimate has a chill hour calculator at https://agroclimate.org/tools/Chill-Hours-Calculator/ which allows you to choose the chill hour model and the time period of interest.
I also ran across another source of good general climate information on a variety of topics at https://mygeohub.org/groups/u2u/decision_resources.
If you have a good map of average chill hours for Georgia or the Southeast, please let me know so I can pass it on.