There has been a tremendous amount of hype the last few days about the coming cold outbreak that will be affecting most of the eastern 2/3 of the United States.  Some bloggers and pundits have talked about "bombogenesis" and the return of the "polar vortex" and unprecedented cold temperatures.  Dr. Michio Kaku, the so-called "science expert" on CBS who has a degree in theoretical physics, touted the coming cold outbreak as something that would essentially shut down the entire country, but could not decide whether or not it was a "polar vortex" (it's not) and got several weather terms incorrect.  Dr. Kaku has no training in either climatology or meteorology and apparently has been spending more time reading the hype from clickbait web sites rather than talking to real atmospheric scientists.  It's embarrassing for CBS to put out hysterical and misleading information like this.
Is it going to get cold in the couple of weeks?  Yes, it is.  As I discussed on November 6, there is an amplified atmospheric wave pattern which is being enhanced by the remains of Typhoon Nuri which will bring not one but two shots of cold air into the eastern US in the next two weeks.  The first will probably not get to the Southeast until late this week, most likely Friday.  It will actually be above normal for a few days before the cold air reaches us.  We may see some precipitation when the cold air hits as well, although amounts will be light.  After that, a second and perhaps even colder blast will enter the Southeast, bringing a second period of cold temperatures which will last through the third week in November.  The coldest temperatures will be in the northern Plains, where they may see temperatures as much as 30 degrees below normal, but here in the Southeast the coldest temperatures will be more like ten degrees below normal.  This will make it feel more like an average winter day than one in November.
The thermograph below for Athens GA shows the fall average, extremes, and 2014 temperatures to date.  The day with the weakest minimum temperature record is November 17.  I've drawn a red bar showing a day with temperatures ten degrees below average for that date.  Even though the temperatures are more like December than November, it is still a long way from the record.  So while you should prepare for the unusually cold temperatures, we are not seeing anything outside what has happened in the past.  It's November, so getting colder is expected, just not always this quickly.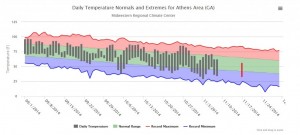 If you want to make your own thermograph, you can do it at https://mrcc.isws.illinois.edu/CLIMATE/.  You need to set up a free account, but once you do, you have access to a lot of useful historical climate info in a variety of formats.