The unusual early-season snowstorm that hit the East Coast this past weekend was the result of an upper-level low pressure area which rotated around a deep dip in the polar jet stream, bringing extremely cold air aloft to the region.  The result of this cold air high in the atmosphere was to cause precipitation to fall in the form of snow, bringing up to 22 inches near Gatlinsburg TN.  The snow set many records for amount and for earliest snow in many parts of the Southeast.  The snow on trees that had not yet lost their leaves and the gusty winds caused power outages and road closures due to downed trees.  What was particularly unusual was not the snow in the higher elevations but the snow that fell in the relatively low-lying areas of South Carolina right under the center of the low pressure center.
There have been many reports written about the storm; I won't list them all here.  A few links you might find interesting:
NOAA's Weather Prediction Center tabulation of selected snow amounts and wind gusts here
Capital Weather Gang blog post on storm with photos here
The Vane blog on impacts of the snow on South Carolina here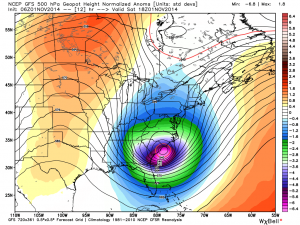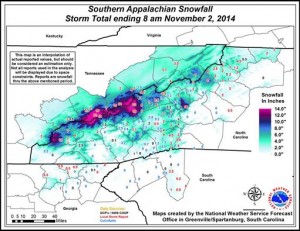 Meanwhile, temperatures in Western Europe were setting record high temperatures.  In a high-amplitude wave pattern like we are experiencing now, it is not unusual for one area to be setting record low temperatures while another area is experiencing record highs.