Drought decreased slightly across south Georgia as heavier than normal rainfall brought some relief to dry areas but also hindered farmers trying to get field work done and slow. According to the National Drought Monitor, the percent of the state covered by drought decreased from 20 percent to 15 percent.
In Atlanta, the monthly average temperature was 75.8 degrees F (2.3 degrees above normal), in Athens 75.0 degrees (1.7 degrees above normal), Columbus 77.6 (1.0 degrees above normal), Macon 76.0 (1.0 above normal), Savannah 78.4 (1.8 above normal), Brunswick 77.6 (0.5 below normal), Alma 77.5 (0.4 above normal), Augusta 75.9 (1.1 above normal), Albany 78.2 (0.5 above normal) and Valdosta 78.2 (0.8 above normal).
Brunswick set a record low maximum temperature record on September 24. The station reported a maximum for the day of just 68 F, breaking the old record of 72 F set in 1963.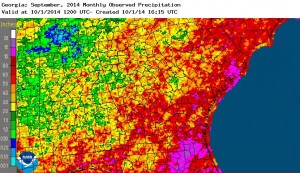 The highest monthly total precipitation from National Weather Service reporting stations was 7.25 inches in Albany (3.81 inches above normal) and the lowest was in Atlanta at 0.75 inches (3.72 inches below normal).  Augusta received 2.27 inches (0.83 below normal), Athens received 4.82 inches (0.88 above normal), Macon received 2.79 inches (0.80 below normal), Columbus 4.11 inches (1.05 above normal), Brunswick 5.64 inches (0.12 below normal) and Valdosta 6.86 inches (2.22 above normal).
Atlanta was the 14th driest in their 136 year record. The last time it was this dry was 2005, when they reported only 0.07 inches for the entire month.
Augusta had the second highest number of days with measurable rainfall in their historical record since 1885 with 14 days. This is the most since 1979, when 14 days with rain were also observed. The record is 17 days, set in 1890. Savannah was tied for their 9th highest number of days with rain with 15 days in 144 years. Savannah's record is 19 days, also set in 1890.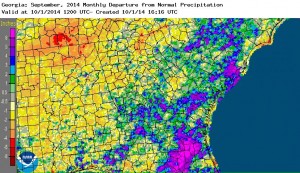 Two daily rainfall records were set in September. Columbus reported 2.48 inches on September 3, breaking the old record of 2.23 inches set in 1967. Alma reported 1.37 inches on September 8, surpassing the old record of 1.10 inches set in 1957.
The highest single-day rainfall from CoCoRaHS stations was 6.21 inches northeast of Hartwell in Hart County on September 8, followed by a Mitchell County observer NE of Camilla and a Chatham County observer in Garden City reporting 5.83 and 5.71 inches on September 30 and 8, respectively. The highest monthly total rainfall was 11.02 inches, observed by the Garden City observer in Chatham County, followed by 10.96 and 10.43 inches from two observers SSW of Savannah, also in Chatham County.
Severe weather occurred in Georgia on eight out of 31 days in the month. All of the wind damage was due to scattered thunderstorms.
The cool and wet weather associated with the rainfall across the southern part of the state delayed harvest of peanuts and cotton, which were already behind schedule due to late planting. Quality levels in dryland crops are not good due to the dry conditions earlier in the summer. Hay production has also been hampered by the cloudy and damp conditions, although rain did improve pasture and hay conditions earlier in the month.
The outlook for October shows that conditions are expected to be relatively quiet, which is typical for most Octobers. The jet stream is not strong and weather systems are relatively infrequent, which makes October one of the driest months for most of the state. This year NOAA is predicting a slightly increased chance of above normal temperatures (based on long-term trends) and equal chances of above, below and near normal rainfall. The wild card in the prediction is the tropics, which continue to be unusually quiet, like many El Nino years, although no El Nino has been verified as of the end of September.