Currently there are two active areas of investigation out in the Atlantic Ocean.  Investigation 91 is far out in the eastern Atlantic Ocean and the predicted movement of this system will keep it well away from the Southeast.  Investigation 92 is east of the Florida coast and is expected to move westward over time, possibly entering the Gulf sometime in the next few days.  A map of some of the model predictions for possible tracks is shown below from the South Florida Water Management District and available from www.spaghettimodels.com and other sites.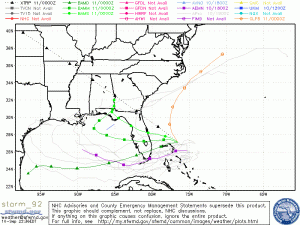 At the same time, a cold front is expected to move through the Southeast on Friday, causing areas of showers and thunderstorms, some possibly severe, out ahead of the front.  The front is expected to stall out near the Georgia-Florida border and could bring a period of unsettled weather to areas near the front.  A more interesting scenario occurs if the circulation around Investigation 92 merges with the front, which could cause further development of the storm.  Too early to say how or even if these two systems might interact, but keep watching weather forecasts and other media outlets for continuing coverage.
And incidentally, the recent record-setting flooding in Phoenix and other areas of the Southwest this week was fed by moisture from Hurricane Norbert in the Eastern Pacific, which pumped moisture into the area as it became a post-tropical system and dissipated.  Tropical storms can cause significant problems inland when their remnant moisture gets wrapped into weather systems.