We have had plenty of rain throughout the county the last couple of weeks, so many fields are too wet for ground equipment and conditions are good for the spread of crop diseases. Following is a crop disease update from Dr. Bob Kemerait, UGA Extension Plant Pathologist:
Corn – As of yesterday (6/21/23), the first discovery of southern corn rust in Georgia was made along the Florida-Georgia line in Clinch and Grady counties. NOW THAT we know southern rust is near Marianna, FL and in Clinch and Grady Co., all corn growers in Georgia's southern tier of counties should pay close attention. "The weather is here now, the crop is at the right stage, and we know where the pathogen is. Be prepared."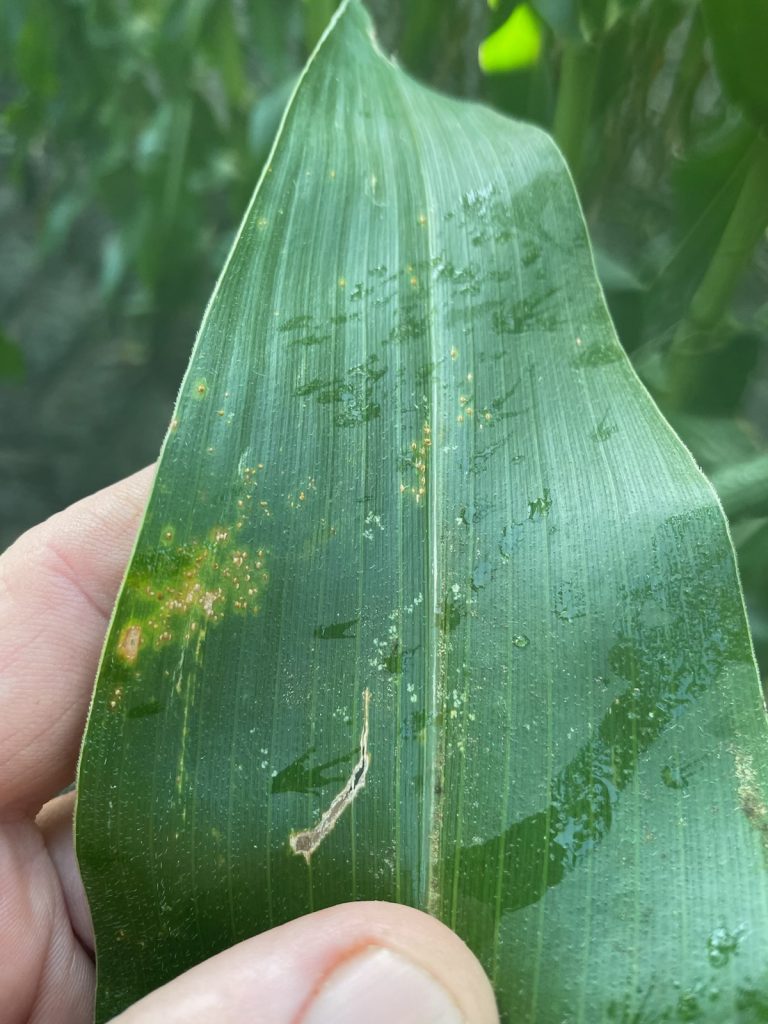 Soybean – We have NOT found soybean rust anywhere in the Southeast, to include Georgia, that I know of yet. I am sure it is out there percolating somewhere. But I do not know where. At this point it is "watch and wait". But IF a grower is at R3 and IF he or she is putting out something like Dimilin, I would certainly tank mix a fungicide with it to take advantage of the trip.
Peanuts – Many growers have or should be starting fungicide programs for leaf spot control. Conditions now are near-perfect for start of leaf spot epidemics. Rain-splashed spores from the soil and debris to the leaves, initiating infection, as does the prolonged leaf wetness periods. Also, fungicides may not have adequate time to dry between rains IF the grower can get back into the fields. My suggestions are as follows:

25-30 days after planting and can get in the field? Important now to put a fungicide out for most growers. Given our conditions, though, 1.5 pt/A of chlorothalonil is good, even better to mix some other fungicide with curative activity, examples include Alto and Dormark, to improve efficacy.
Growers at this time can also use Aproach Prima and Absolute Maxx. These are appropriate fungicides but I do not like to see either used under too much leaf spot pressure.
Growers who are 40 days or beyond and needing to apply their FIRST fungicide:

Leaf spot is the main threat now, though we are always aware of white mold. Cooler temperatures and heavy rains have likely slowed development of white mold.
Lucento and Priaxor are fungicides that come to mind in this situation- good leaf spot control and some white mold activity. They work well for applications in the 45-day after planting arena.
Now would not be a good time for chlorothalonil alone. I would proceed with extreme caution before using selections from "a" and "b" above. In doing so, consider Peanut Rx. If you are at "high" risk for leaf spot, do not do it. If you are at "moderate" risk for leaf spot, consider what could happen if you cannot make a timely fungicide application in 2 weeks.
Application of Excalia + a leaf spot material or Elatus + a leaf spot material could go out at 45 days, however given our current conditions I would rather see you save these guns (as with our other strong white mold products) for 60 days after planting.
The mention of trade names in this blog does not imply endorsement by the Georgia Extension Service, nor criticism of similar ones not mentioned.
If we can be of assistance at Worth County Extension, please let us know.