Southern corn rust can be a devastating disease on corn grown in the southeast if it causes infection early enough.  However once the corn reaches the hard dough stage it should be safe from any yield losses.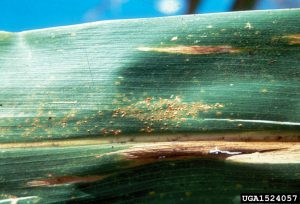 The decision to treat with a fungicide is made carefully by considering 1. the growth stage of the crop, 2.  distance to where rust has been found and 3.  Environment.  Now with rainfall and hot temperatures and high humidity, our environment is close to perfect for development and spread; hence the rapid find of rust across the region.
To date corn rust has been found in Mitchell, Tift and Burke Counties.  If corn rust is found any closer we will let growers know.  But most of the fields we have looked at are well past the stage where fungicides would be beneficial.