As the coronavirus is wreaking havoc throughout the world, it is hard to get very excited about strawberry diseases – unless you make an income off strawberries.  Unfortunately, the mild temperatures and almost continual rainfall are making it very difficult to manage strawberry diseases at this time. Based on diseases we are currently observing in the field, I will give you a few pointers that may help you to finish up the season as you move forward. 
Anthracnose fruit rot
As it warms up and remains wet, we are seeing anthracnose pop up.  We know that resistance has occurred to the strobilurin fungicides (Abound, Pristine, etc.) in many locations throughout Georgia, and therefore, I would not trust these fungicides to control anthracnose – never at this point.  However, even in the absence of apparent resistance (resistance testing conducted and none found), we are seeing severe anthracnose in some locations. The lack of control would then be related to several possibilities: (1) anthracnose having come in on transplants, (2) spray intervals that are less than 7-10 days during rainy weather, and (3) excessive rain and perfect environment for disease.  For the remainder of the season, remove and destroy all infected berries (bury them or remove far outside the field).  If using strobilurins (Abound, Pristine, etc.), use captan products with them; unsightly residue may be an issue with some captan products, but use these as much as possible.  Incorporate Switch and Miravis Prime in the spray program as well going forward. See the IPM Guide for strawberries at www.smallfruits.org for additional recommendations.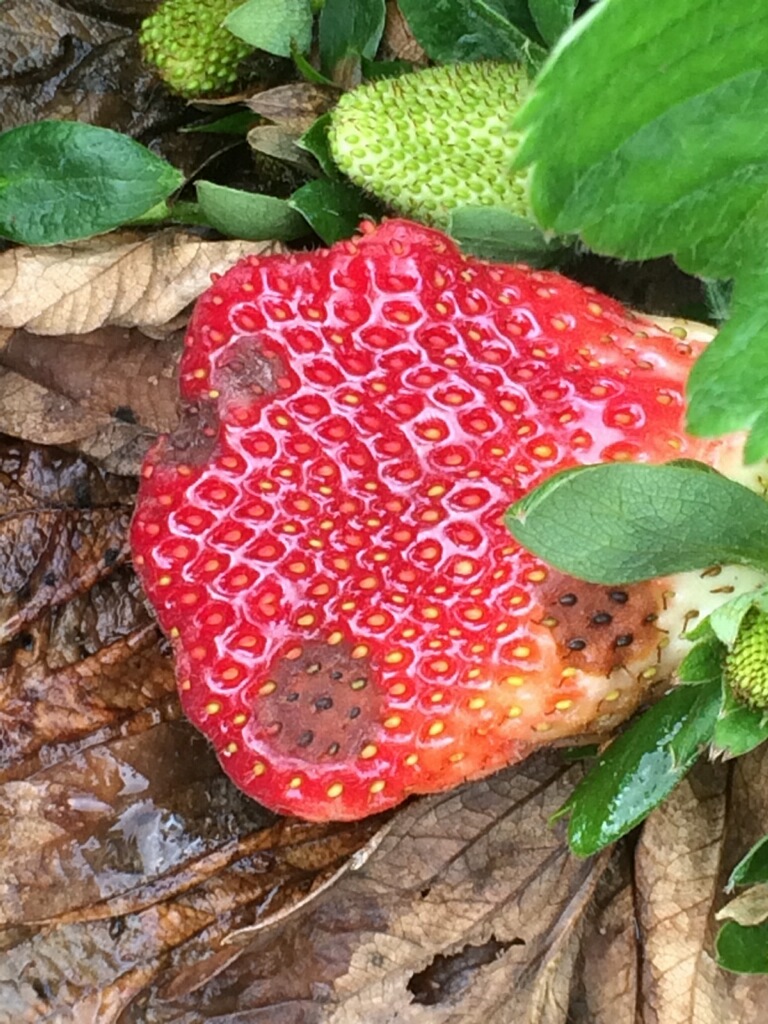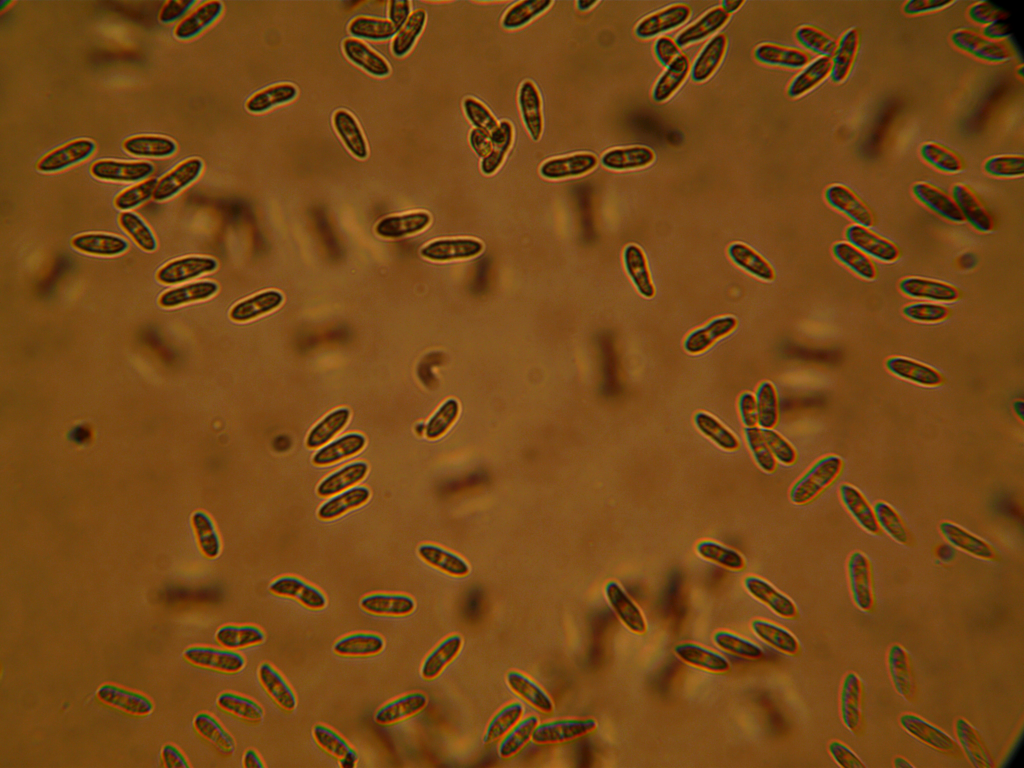 Non-infectious phyllody
The leaf growth coming from the fruit below is likely a non-infectious phyllody.  There is really nothing to do about it, as these strawberries are hormonally/physiologically confused.  In general, this will work itself out as the season progresses. These symptoms are the same or similar to those caused by Phytoplasmas and some herbicides, but this is not likely the cause of these issues in Georgia at this time.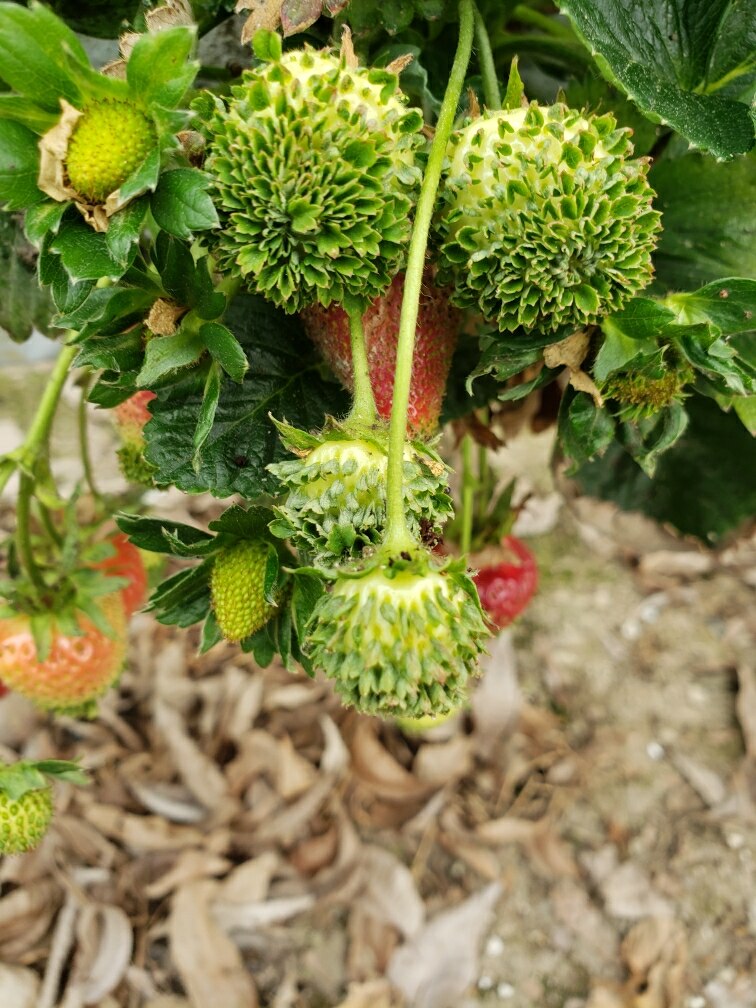 Phythopthora root and crown rot
We are seeing quite a bit of this disease due to the wet conditions observed recently. Phytophthora crown and root rot is caused by Phytophthora cactorum. The source of the inoculum is oospores which persist in soil or infected plants. Under wet conditions, oospores produce zoospores, and these mainly infect wounded plant tissue (root or crown). Wet conditions likewise encourage the spread of the pathogen from plant to plant. Infected transplants are a major source of inoculum in fumigated beds. Wounds can be induced during the transplanting process, and this also increases infection. Control measures are generally limited to use of chemical fungicides. Ridomil Gold SL can be applied through drip irrigation systems at 1 pt. per treated acre in sufficient water to move the fungicide into the root zone. Ridomil Gold SL contains a systemic compound, and root uptake is critical to activity. Make one application after transplanting, followed by an additional application 30 days before the beginning of harvest or at fruit set. A third application may be made during the harvest season. In order to avoid illegal residues, do not use more than a total of 1.5 quarts of Ridomil Gold SL per treated acre per year.
Phosphonates, such as Aliette WDG or ProPhyt or many others, are also registered for use on Phytophthora cactorum, but the labels may specify leather rot control, as opposed to root and crown rot. These are also registered for red stele (Phytophthora fragariae). Phosphonates have systemic activity when foliar applied, and this systemic activity should help with root and crown rot as well, but Ridomil is generally more active when the disease is observed. Ridomil Gold SL is really the best choice if resistance has not occurred. If using phosphonates, read the labels for instructions, as labels differ across products.
Leaf blotch
Leaf blotch has been observed in multiple locations this year. Leaf blotch is caused by Gnomonia spp. (anamorph Zythia fragariae). This is a relatively rare strawberry disease, but persistent cool wet weather will allow for significant infections, and we have had these conditions often in the last couple of months. Fungicides that are active against Phomopsis generally have activity against this disease as well. Apply Rally + Captan a couple of times for this, about 14 days apart.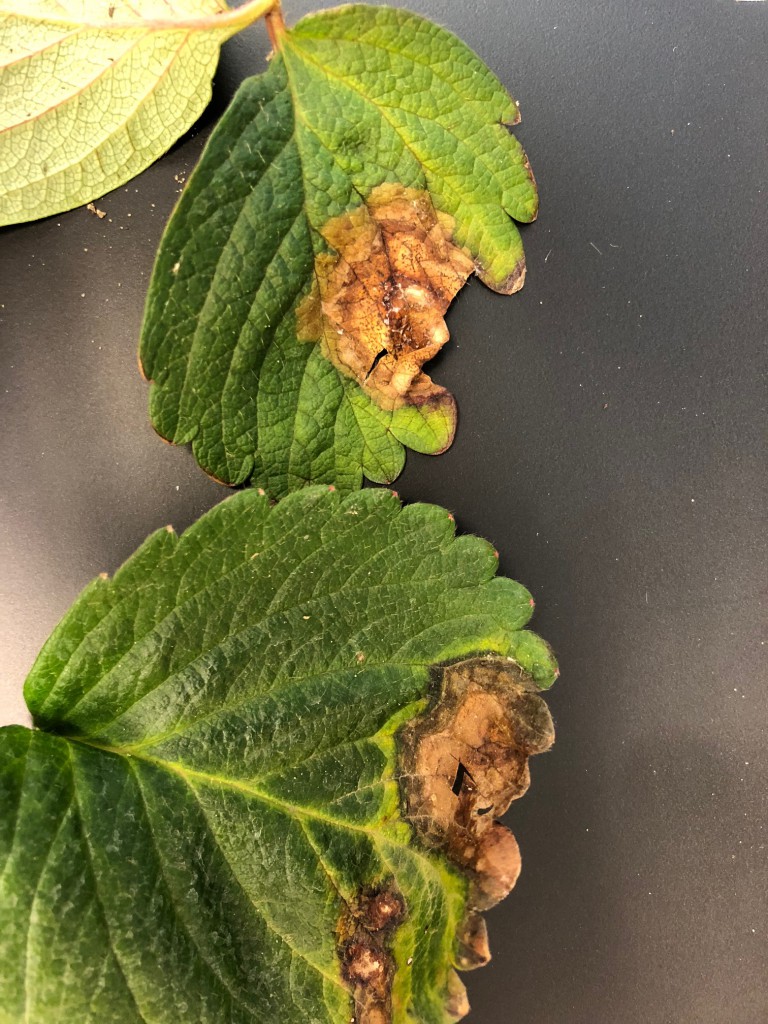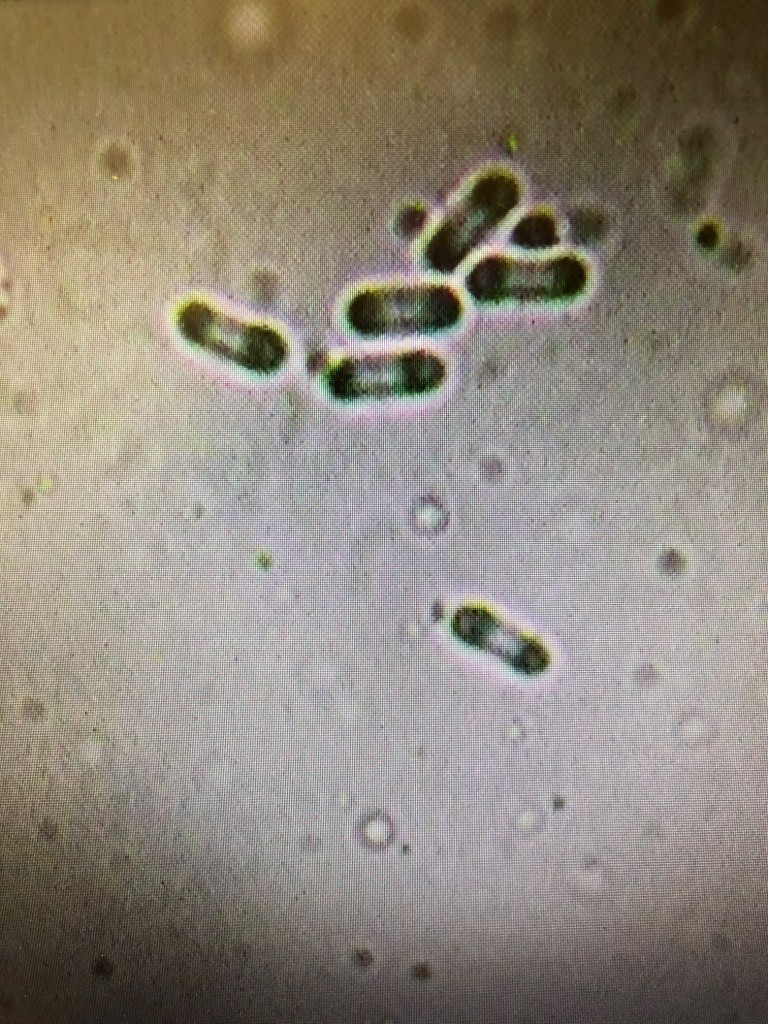 Angular leaf spot
Angular leaf spot (bacterial) has also been observed. Angular leaf spot of strawberry, caused by Xanthomonas fragariae, can be suppressed by use of copper sprays (copper hydroxide or copper sulfate products). Copper hydroxide products may be more efficacious than copper sulfate products for this pathogen. Discontinue use when phytotoxicity appears, usually after 4-5 applications.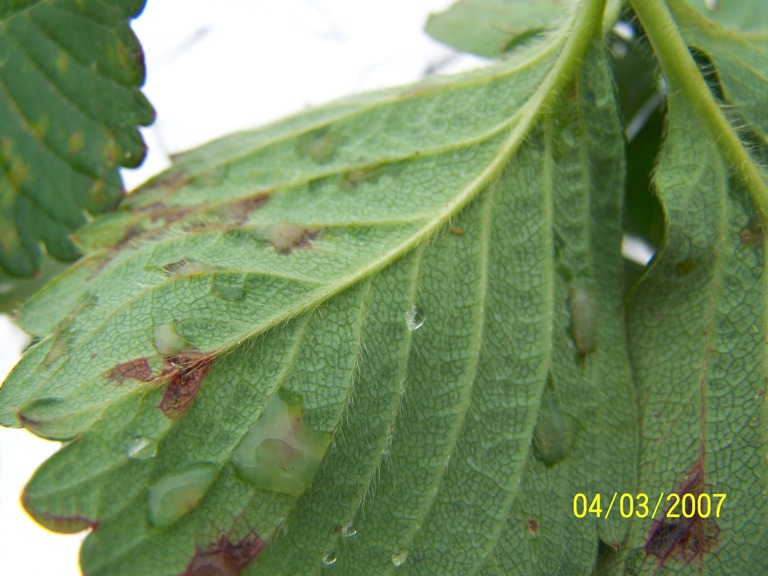 That pretty much covers it for now. We are seeing lots of disease for sure. Keep in mind that the various diagnostic clinics are closed for business at this time, so diagnostics are limited at the moment to digital images. Please continue to work with your local county agents to communicate your needs. I pray you will all stay well, and though many questions remain to be answered, I hope you have a productive season.