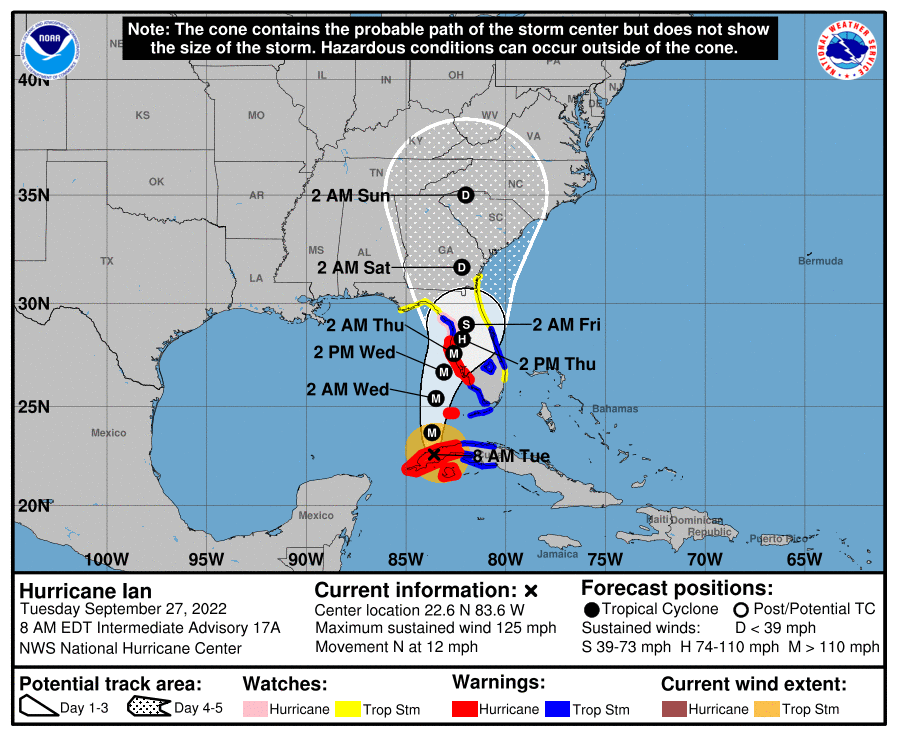 I have waited until this point to comment on Ian since its path has remained uncertain. It could still change, but it looks as though we have the best case scenario for south Georgia if it stays on the current predicted path, considereing the way it looked a few days ago. I am sure all growers have turned off irrigation to avoid over-saturated soils when the wind arrives. If you haven't you need to do so. Everyone with Pawnees ready to harvest seems to be working hard to get those out ahead of the storm. That's about all we can do. I had calls over the weekend asking about shaking a few nuts off the trees to try and save the trees. Fortunately, it doesn't appear at this point that such drastic measures are warranted. Our state climatologist, Pam Knox, released the following information, which is the best I can offer in expectations of wind and rain:
The latest forecast shows that the National Hurricane Center is now leaning towards a more eastern path for Ian, which is expected to make landfall somewhere near Tampa as a major hurricane Wednesday evening, although there is still a lot of wiggle room in the forecasts for anywhere on the west coast of Florida. The forward motion of the storm is now slower than in previous forecasts, which gives us a little more time to prepare in Georgia. It also means that the storm will weaken more than originally forecast, and it will likely come into Georgia as a depression, so winds will also be weaker than we were afraid of. But there will still be impacts throughout the state, with nearly all the state receiving 2-4 inches and the coastal areas up to 10 inches. Since it is convective rain, it will be spotty, and some areas could measure more or lesser amounts. Gusty winds will happen throughout most of the state, and isolated tornadoes may occur along and to the east of the eventual path of Ian. There is already a storm surge watch for the southern Georgia coast as winds from the east will blow water onshore and into the marshes and low-lying areas.
Since it is moving slower, we can now expect to see some impacts through Saturday, although rain could start in the southeastern part of the state as early as Wednesday, although more likely later in the day on Thursday. By Saturday night, most of the storm will have exited the state, although there could be some lingering showers. The forecasts are likely to continue to evolve as the latest model forecasts come in, so keep paying attention to updates from the National Hurricane Center and National Weather Service.
Please keep the people of western Florida in your prayers, as this could be a terrible disaster for them with up to 10 feet of storm surge and 125 mph winds at landfall wherever it hits.
Southeast Georgia remains in the most peril but expected wind speeds are much reduced from what they were. While this is the best we can hope for at this point, Tropical Depressions have maximum sustained wind speeds of 38 mph with higher gusts possible. With the crop load on our trees, this could still cause some loss and damage but is a much better situation to be in than a Tropical Storm or Hurricane. Additionally, those areas receiveing heavy rainfall events are more likely to see some trees blown down, but again, hopefully that will be at a minimum.
I encourage you to get the most updated information on this storm from the NOAA Hurricane website, which provides the most accurate information available and has maps with expected path, cone, wind speeds, arrival times, and rainfall amounts.