Pecan harvest is underway in Georgia. Pawnee, Moneymaker, Elliott, Schley, Oconee, Creek, Caddo, Cape Fear, Kiowa, Excel, and Desirable have been or are being harvested at this point. Over the next week we should see the rapid pace of shuck split and pecan harvest continue to accelerate. While the crop appears to still be fairly strong following the storm, we do see a few issues popping up here and there. We have seen as much as 30% of what is being brought into some cleaning plants being blown out. Much of this blow out is a result of the nuts that blew off the tree as green shucks in the storm.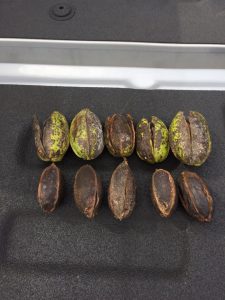 Bottom row shows nuts damaged or blown off in storm as green shucks
We also had a lot of nuts that were blown off out of the shucks or with the shucks open. I have had reports of 3 to 5% of Kiowa and Cape Fear in some harvested loads with cupping on the underside or the tail end of the nut failing to fill out. These are likely those nuts that came out of the shuck or blew off with the shucks open in the storm or had their shucks damaged in the wind and failed to fill out completely. Some of these nuts could also have had a broken peduncle (stem attaching the nut to the tree) in the storm and failed to develop properly. There is a possibility that pollination could have affected this as well, although I think the storm is the main culprit. Growers may need to try blowing these nuts a little harder in the cleaning plant if they notice this as they are harvesting.
Poorly filled nuts likely resulting from storm damage
I have also had reports of some embryo rot and vivipary or premature germination popping up. This is a result of the warm weather we have had since this early harvest began. Temperatures are expected to drop this week, which should help improve conditions to slow down the potential for vivipary. The longer the shucks stay closed in the tree the more likely vivipary and embryo rot will be a problem.