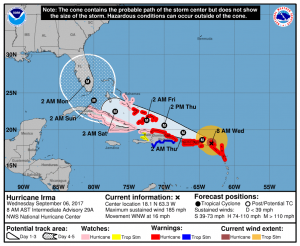 After a blog post about the approach of one of the Tropical Storms that came through Georgia last year, a friend of mine said to me, "You couldn't offer them any advice except to turn the water off?" Well, we are facing a more serious wind event now with Hurricane Irma and unfortunately that's really all we can do so my advice remains the same.  Turn off the water for a few days until the storm passes. Our crop looks good right now and we don't need a storm like this to pass through at this point. I've seen many heavily loaded trees that don't need any wind at all.
The path of the storm is still a little uncertain but right now it appears more favorable for us than it did yesterday with prediction for the storm to shift somewhat to the East. This track would keep it from slamming right up through the center of Georgia or even worse, moving out into the Gulf, strengthening, and coming up through the Florida panhandle. If it moves up the East coast there will likely still be some wind damage, especially in some of the same areas we saw hit last year, but it would be much less than had the storm passed through the center of the state because going up the East coast would place us on the weakest side of the storm. Still, its a little early to tell where the storm may go and it could shift again so we are not out of the woods yet.
Shuck split is progressing well on Pawnee and we could see harvest begin on this variety within another week or two. For our major varieties, the nuts I cut by the end of last week and through the weekend were pretty well filled out so kernel filling is almost complete. This is another indication our crop maturity is a week to 10 days ahead of schedule. We would normally continue irrigating at 100% until mid September but with the storm approaching, turn the irrigation off and allow the soils to hopefully stiffen up somewhat before any wind may arrive. It looks like we are set up for several days of clear, dry weather prior to the storm's arrival and it would be better to sacrifice a little nut quality than to lose trees.
The Georgia Pecan Growers Field Day is tomorrow (Sept. 7). See previous blog post for details. If you are caught up in the orchard and want to hear about the latest pecan work being done at UGA and/or discuss the crop (and Hurricane Irma) with other growers, please join us.