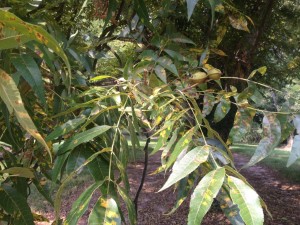 If you have black aphid susceptible cultivars like Schley, Sumner, Oconee, or Gloria Grande be on the lookout for black aphids. Even if you have recently sprayed, check in behind them again after a few days. We have seen significant flare ups of this pest over the last two weeks. At this point in the season it would not be a bad option to go with Chlorpyrifos + Imidacloprid as a treatment, particularly if you have had flare ups behind some of the other aphicide materials. Chlorpyrifos will also get shuckworm as well. If you have a history of weevils in your orchard, Bifentrhin would be a suitable choice for all of these pests at this point in the season. However, continue to check for mites behind these sprays.
The SE Georgia Pecan Field Day was held in Appling County earlier this week and drew a large crowd. Hopefully the information we provided was informative. Thanks to Appling County Agent, Shane Curry for putting on a good program for the growers in the SE Georgia area. This was the first of several upcoming pecan field days.
The next one will be the Georgia Pecan Growers Association Annual Field day held September 7, 2017 at the UGA Ponder Research Farm (527 Ty Ty-Whiddon Mill Rd)  in Ty Ty, GA (near Tifton). Registration begins at 8:30 am. Program kicks off at 9:00. Cost is free for GPGA members and $20 for non-GPGA members. Lunch is provided. See the following link to register https://www.georgiapecan.org/annual-fall-field-day.da    A Google map of the Ponder Farm can be found here. Call the Georgia Pecan Growers Association at 229-382-2187 for more information on the GPGA field day.
There will also be a Pecan Field Day in Pierce County on September 12. Contact the Pierce County Extension office  at 912-449-2034 for details.