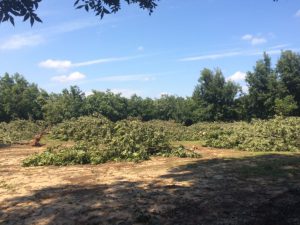 Most Georgia pecan growers are still busy cleaning up their orchards following Irma's damage. However, don't forget about fulfilling the needs of the trees to finish maturation of the crop that remains. Most orchards throughout the state received significant rainfall (3″ or more) from the storm. However, much of that moisture is already gone. The trees are still sucking up water right now. Pawnee is ready for harvest but all other varieties are still maturing and require soil moisture for nut maturation and shuck split. Continue irrigation at about 40-60% of full capacity now that the kernels are filled. Orchards on sandy soils will need to use the high end of this rate and those with clay soils should get sufficient moisture at the low end.
I'm hearing of a variety of responses from local FSA offices regarding procedures to follow for orchard cleanup and the application process for cleanup funds. Hopefully most growers have applied for cleanup funds already. U.S. Secretary of Agriculture, Sonny Perdue, toured pecan orchards in Georgia last week and is well aware of the need for an expedient cleanup of these orchards so that the remaining crop can be harvested. As a result he issued orders last week to expedite this process, stating the following:
"The impact is shocking and will be felt for many months," said Secretary Perdue. "In addition to efforts being made on the ground to assist producers, we have taken a hard look at our regular reporting requirements and adjusted them so producers can take care of pressing needs first and mostly deal with documentation and claims later. President Trump's directive is to help people first and deal with paperwork second. And that's what USDA is doing." A listing of special farm program provisions is found here.
The instructions received by the Georgia Pecan Growers Association from FSA suggest:
You, the grower, are approved to take pictures of your damage without an FSA agent present for ECP & TAP
HOWEVER – after cleaning up the limbs and down trees, do not immediately dispose or destroy piles of debris. FSA agents will need to personally view some of the debris and root balls of fallen trees to approve your ECP or TAP requests
Take pictures of your 'lanes' or 'alleys' between the trees to prove and show the damage will affect harvesting equipment from operating properly
Lastly, you MUST apply for these programs BEFORE CLEAN UP IS COMPLETE