The crop has progressed well and has looked good overall to date. But, it appears that as the early maturing varieties are harvested and others are nearing harvest, we are seeing some issues with the kernels of some varieties. There are a few non-filled kernels or "pops" out there, which is not uncommon. More disturbingly, I have had several calls about a problem that is showing up on multiple varieties but is most pronounced on 'Oconee'. This problem appears as necrotic kernels which have turned to a gelatinous/liquid material inside an otherwise healthy-looking nut. These nuts are different in appearance from the normal "pop" or pollination related kernel abortion.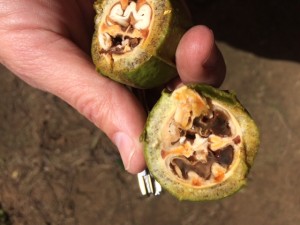 This afternoon I cut 25 nuts of several varieties each from our production research orchard at the UGA Ponder Farm. All trees are healthy and receive commercial-level management. The percentage of rotten kernels for each variety is listed below:
Cape Fear: 24%
Oconee: 60%
Sumner: 36%
Desirable: 24%
Stuart: 35%
I saw kernels in various stages of this necrosis. It appears to start often on the bottom of the kernel, which begins to turn black and gelatinous, progressing from there.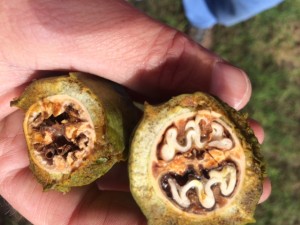 From the calls I have received this appears to be a fairly widespread problem affecting the crop at varying levels. Unfortunately, we don't really know at this point what is causing this nor to what extent it will affect the crop. Most of these nuts will blow out of the harvester or cleaning plant. I have seen enough of it out there now that I expect growers will notice it more and more as harvest progresses, and just wanted to let folks know we are aware of the problem.  I will provide more information on this as it comes available.