Every spring I post an article on this blog about early season thrips management in peanut. The most important difference between 2019 and the previous five years is probably the economic situation of Georgia's farmers after hurricane Michael and the almost continuous rain that fell though the 2018 harvest season. Perhaps in 2019 more than ever, producers will be looking for ways to cut costs while maintaining yield. Thrips management options for this year have not changed, and I encourage growers to stick with what has worked for them in the past. Phorate (Thimet) applied in the furrow at planting reduces thrips feeding injury and is the only insecticide that has been proven to reduce the incidence of Tomato Spotted Wilt in peanut. The risk of thrips injury and spotted wilt infection is highest for peanut planted prior to 10 May. Applying imidacloprid (there are many trade names) as a liquid in the furrow at planting has gained popularity over the last few years, and at recommended rates, this treatment will generally keep thrips injury from getting severe. Some growers will opt for no at-plant insecticide and make a foliar application (usually acephate) if needed to reduce thrips populations. This approach can work and save money, but it carries additional risks compared to in-furrow insecticides. Weather conditions and other farm activities (like planting) can make it difficult or impossible to apply foliar insecticides in a timely manner. A foliar insecticide that is applied too late provides no benefit.
A thrips forecasting model developed at North Carolina State University suggests that the intensity and timing of 2019 thrips flights in South Georgia will be similar to last year. If this holds true, it will be good news for growers as injury was generally light to moderate across Georgia's peanut belt in 2018. It is important to remember that local environment can have a large impact on thrips movement at the field level. Burning down winter weeds or maturing wheat in fields adjacent to susceptible crops such as peanut can result in very high thrips infestations.
We have had our thrips traps in the field for three weeks, and we are collecting low numbers (typical for this time of year) of adult tobacco thrips. These migrating thrips will find peanuts emerging over the next few weeks. Adult numbers may be low, but these adults will lay eggs. It is the immature thrips that cause most of the injury we see on peanut. If you have questions about thrips or other insect management in peanut contact your local UGA County Extension Agent.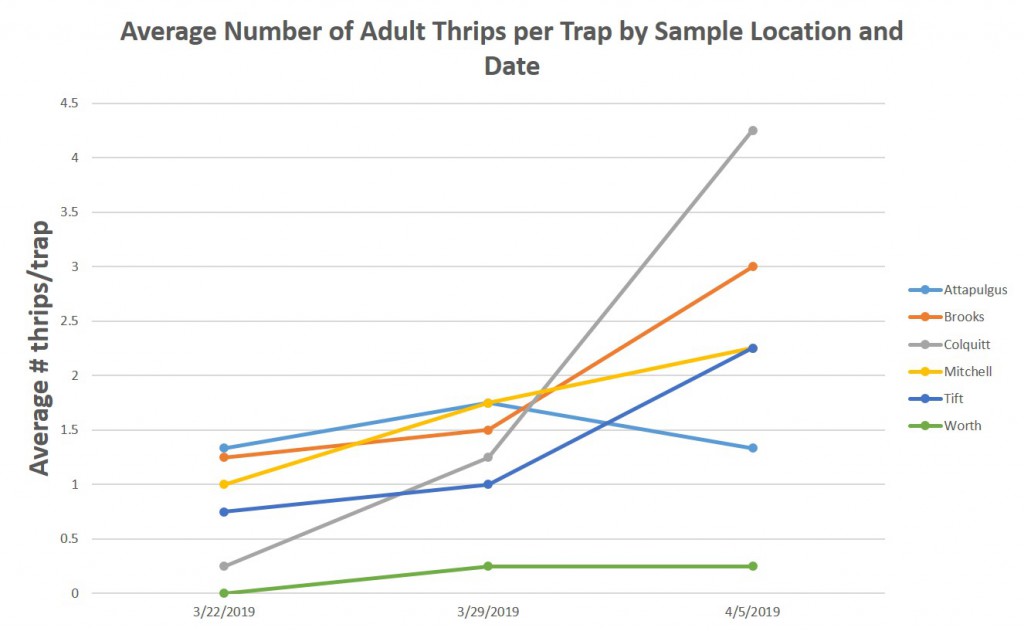 These data are being provided for informational purposes only and may not be representative of thrips dispersal at your location. Peanut fields should be scouted regularly to quantify actual thrips populations.