You may recall that last October, we shared an opportunity to watch the "Hearts of Glass" documentary. People are growing vegetables hydroponically under glass in downtown Jackson Hole, Wyoming. This idea of vertical farming is a trending topic. It so happens that the International Society for Horticultural Science (ISHS) is offering a series of recorded lectures about vertical farming. If this intrigues you, read on!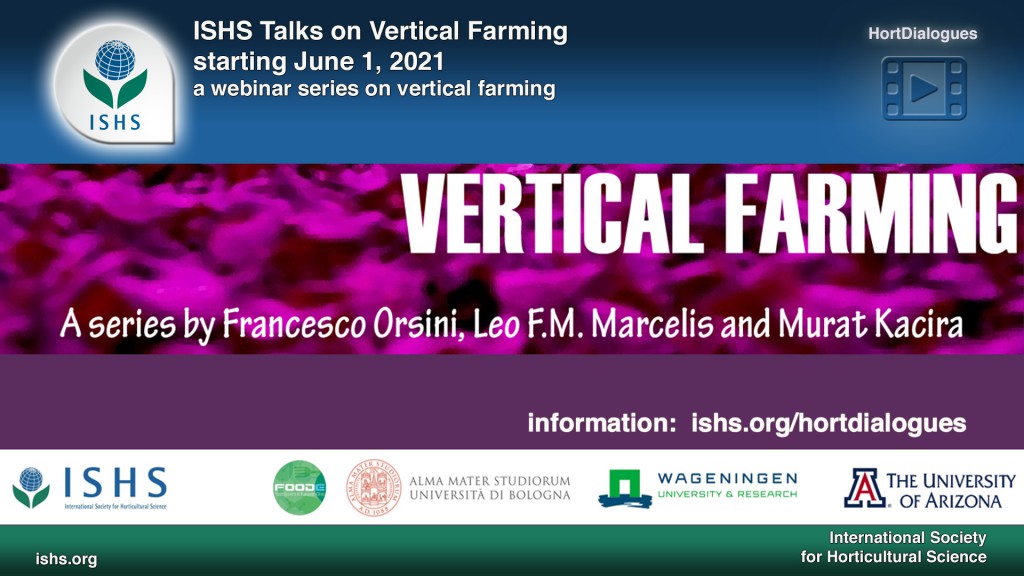 June 1, 2021, 12:00 CEST a series of ISHS Talks on Vertical Farming organized by Prof. Dr. Francesco Orsini, Prof. Dr. Leo F.M. Marcelis and Prof. Dr. Murat Kacira will be starting with the launch of the first webinar entitled: Are vertical farms sustainable for the environment? (Michael Martin, IVL Sweden).
Registration is not required for this series. Each video will be released online. Check the ISHS Talks on Vertical Farming web pages for details. Each episode will become available on the respective date (see list below) at 12:00 CEST, starting with the first episode Are vertical farms sustainable for the environment? on June 1, 2021.
1 June 2021: Are vertical farms sustainable for the environment? Michael Martin, IVL Sweden
15 June 2021: What are the critical choices and decision towards next generation plant factories? Eri Hayashi, Japan Plant Factory Association, Japan
1 July 2021: Do we need green light in vertical farming? Erik Runkle, Michigan State University, USA
15 July 2021: Can we control intumescence injury in tomatoes grown under led light? Chieri Kubota, Ohio State University, USA
1 August 2021: What is the role of light spectrum on lettuce leaf pigmentation? Laura Cammarisano, IGZ Grossbeeren, Germany
15 August 2021: Can we improve resources use efficiency through optimised lighting? Giuseppina Pennisi, University of Bologna, Italy
1 September 2021 – Ji Yongran, Wageningen University and Research, Netherlands
15 September 2021 – Maria Bustamante, Stockholm School of Economics, Sweden
1 October 2021 – Christine Zimmermann-Lössl, Association of Vertical Farming, Germany
15 October 2021 – Kelly J. Walters, University of Tennessee, USA
1 November 2021 – Gioia Massa, NASA Kennedy Space Center, USA
For further information about this and other ISHS webinars go to https://www.ishs.org/hortdialogues.