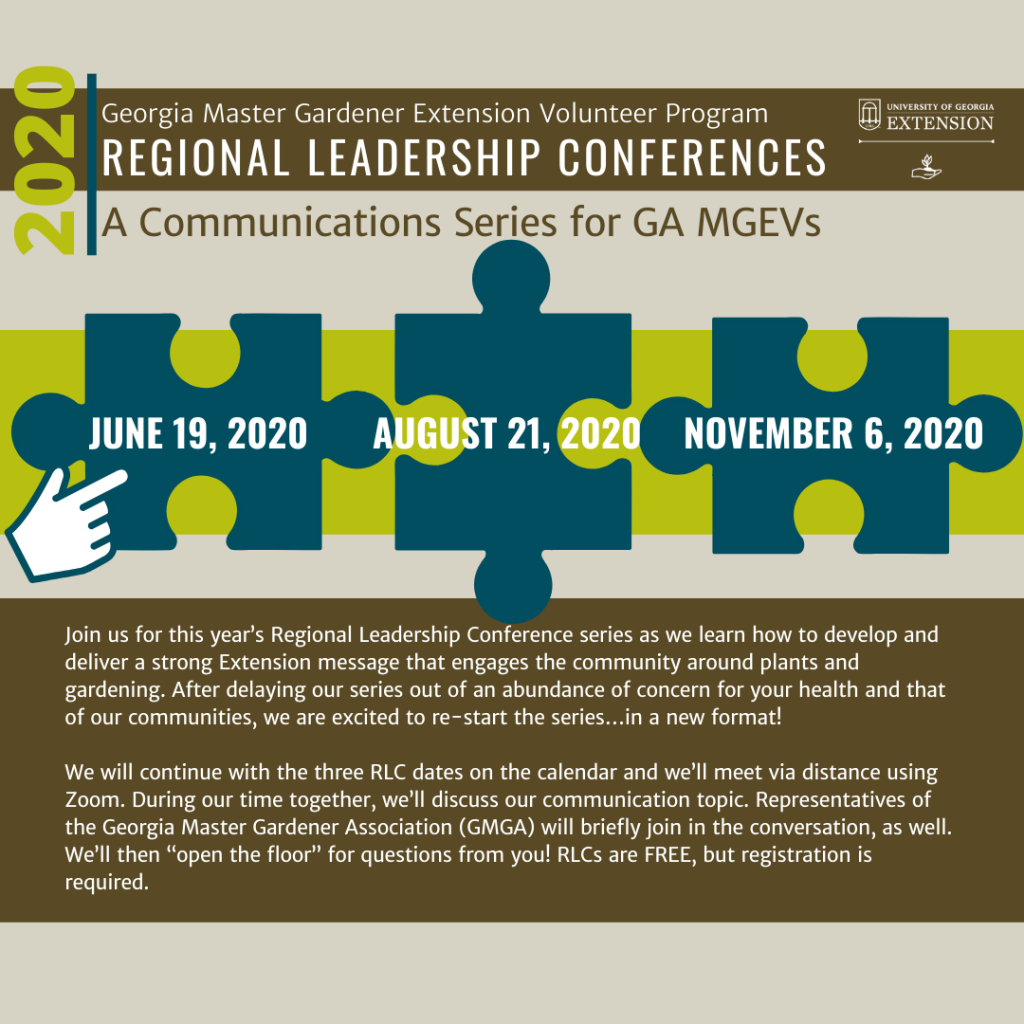 Join us for this year's Regional Leadership Conference series as we learn how to develop and deliver a strong Extension message that engages the community around plants and gardening. After delaying our series out of an abundance of concern for your health and that of our communities, we are excited to re-start the series…in a new format!
We will continue with the three RLC dates on the calendar and we'll meet via distance using Zoom. During our time together (10 am – 12 pm), we'll discuss our communication topic. Representatives of the Georgia Master Gardener Association (GMGA) will briefly join in the conversation, as well. We'll then "open the floor" for questions from you! RLCs are FREE, but registration is required. Register here.
June 19, 2020 – Communicate to Connect
August 21, 2020 – Communicate to Cultivate
November 6, 2020 – Communicate for Community
While this is a different format than we envisioned when we planned the series, we feel it is an opportunity to safely come together and discuss timely topics. We can still hear from each other and find encouragement in the program that is near and dear to us all, so it is only fitting that our June session topic is focused on connecting.
June: Communicate to Connect
It's been a while since we've "seen" each other, so we'll start our series with good, old fashioned "Hey! How are you doing?" We'll chat a bit about what we have been up to in this time of staying at home, especially all of the "virtual" and "distance" communication methods we have been using. Knowing that you likely have a few things on your mind, our session will end with updates and a Q&A session. Come prepared with questions! If we have more than time will allow us to answer, there's always our Trellis blog for answering!
For more information, contact the Georgia MGEV State Program Office at masterg@uga.edu.