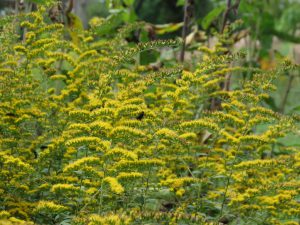 The State Botanical Garden of Georgia is providing leadership for a new program, the Georgia Pollinator Plants of the Year program. You may remember the Georgia Gold Medal Plant (GGMP) Program. The Pollinator Plants of the Year program is similar, but creates an additional emphasis on the role that home gardens and commercial landscaping can play in supporting pollinating insects. Similarly to GGMP, this new program represents the combined efforts of the State Botanical Garden of Georgia, The Department of Natural Resources, The University of Georgia Extension, growers, entomologists, and landscape professionals across the state. Partners will work synergistically to share horticultural knowledge and plant material internally and to encourage consumers to include these biodiversity supporting plants in their gardens.
Annually, four plants will be recognized and promoted from the following categories: spring bloomer, summer bloomer, fall bloomer, and Georgia native. Nominations will be solicited from growers throughout Georgia and will then be voted on by a selection committee. The Pollinator Plants of the Year will be chosen based upon their pollinator supporting qualities, consumer appeal, and ease of propagation.
We know that many MGEVs have pollinator demonstration gardens throughout the state. You might have a plant or two that you would nominate for this recognition. If so, use the nomination form to tell us more! You'll want to be prepared with some information before you submit the nomination. You'll be asked for genus and species, cultivar name, season of bloom, and cultural preferences. There are a few more questions for woody plants. Please answer to the best of your ability. Nominations are accepted through December 1, 2019.
Thank you for contributing to this new program!