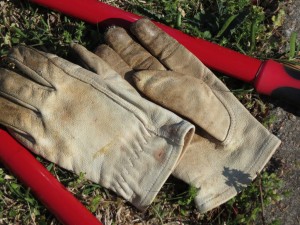 It is dusk, no, almost dark, really. I am hurrying to pull a few more weeds in my vegetable garden and sow a few flower seeds. I am deeply engrossed in my plants, admiring their rows, thinking about what I can cram in next.
"Garden Lady!"
I vaguely register children's voices, sounds of playing on the lawn of the next house up the street. I continue weeding, reluctant to quit, enjoying the cool evening.
I hear it again, this time in more of a sing-song voice.
"Garden Lady!"
I pause, realizing they are talking about me. My first thought is, "Are they making fun of me?" I am bent over at the waist, and I think of those wooden signs with ladies' bloomers that people stick in a garden, as if Grandma is right there weeding.
The pause is only for a second (light is fading, after all). I smile and go right back to my tasks. They may be teasing me, but they notice that I spend time in that garden. This is a good place to start!
It is so important to introduce youth to horticulture, plants, and gardening! Whether we are actively working with youth in our MGEV projects or simply setting a neighborhood example, we are mentoring the next generation of gardeners.
————————–
Thank you for taking the time to update your Working with Youth Risk Management Training in July! We will all be updating our RMT, regardless of whether or not we are working directly with youth. MGEVs will use MGLOG accounts to access the training and quiz. When the system updates, I will post directions here on Trellis.