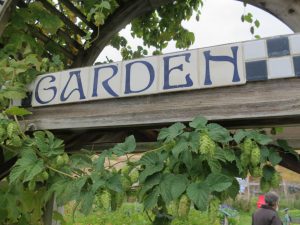 For the past two weeks, we have anxiously watched the news, watched the weather channel, listened to the radio, and checked our phones for news updates, weather alerts, and updates from family members and friends as devastation caused by Hurricane Harvey has washed over Texas and Louisiana. With barely enough time to  register the devastating impact 27 trillion gallons of rain  has had on Texas and Louisiana, citizens of Florida, Georgia, the Carolinas, and the rest of the Southeast US prepare to respond to the destruction promised by Hurricane Irma.
During these times of tragedy, we hold our loved ones a little closer and are reminded of the extreme importance of preparing our homes and families for emergency situations. Pam Knox, an agricultural climatologist for UGA Cooperative Extension, shares some insight on what to expect from Hurricane Irma in this article. And, Elizabeth Andress, a food safety specialist with UGA Cooperative Extension, reminds everyone  in this article that it is a good idea to have an emergency food supply on hand. Here at the GA MGEV State Program Office, we encourage everyone to take all precautionary measures, be safe, and be prepared, no matter the caliber of the storm.
As you prepare your home for the potential storm, look around your garden. Potted plants can be gently laid on their sides to reduce chance of damage from being blown over. Hanging baskets should be taken off of brackets and situated where they will not blow around. Smaller pots that can be picked up may be better of in a garage or shed. Roll up and store garden hoses, hand tools, garden decorations, and anything else that could become a hazard under high wind conditions.
When the storm is over, remember your good horticultural practices. Prune any broken limbs properly. Shred and compost yard waste when you can. And most of all, encourage others.
You can start over! Remember all of the times you said to yourself, "If I could do it over again, I would…"
What an excuse opportunity to try something new! Take advantage of the new site conditions to grow new and different plants. Use the opportunity to modify the soil first, add some organic matter, really do up the site well.
Create different spaces. Maybe this is your chance to implement those visions you've had, but were holding back on because of the work involved.
As gardeners, we spend a lot of time planning around seasons and even more time tending to our gardens' needs in each season. Hurricane season can be unpredictable and bring overwhelmingly negative effects. While surveying your landscape and garden in the wake of the storm, remember that your garden, even in its damaged state, can help restore your optimism as it rebounds with your care. You'll find encouragement in the new beginnings, the new knowledge, and the new beauty! Be sure to encourage fellow gardeners as well as those who seek post-storm advice from Extension.
Best wishes for safety!
Sheri and Sarah
*-*-*-*-*-*-*-*-*-*-*-*-
For updates, visit the "Climate and Agriculture in the South East" blog at  site.extension.uga.edu/climate, like SEAgClimate on Facebook or follow @SE_AgClimate on Twitter. For information from UGA Extension and UGA College of Family and Consumer Sciences on how to compile short-term and long-term emergency food supplies, go to https://t.uga.edu/3wB. For emergency preparedness information, read these articles. 
For tips on cleaning up after a disaster and how you can help, refer to this article from Texas A&M AgriLife Extension.