Re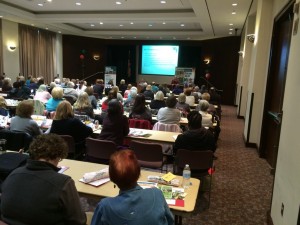 cently, a MGEV told me she was headed to Alabama to enjoy their annual Master Gardener conference. She asked me how to track and record those hours. I reminded her that attending a conference like this is time spent learning, so these hours  are recorded as continuing education.
Purpose of continuing education:
Keep MGEVs current on latest research and Extension recommendations
Guidelines for continuing education:
Informal instruction on all things gardening from vetted sources
Usually 30 minutes or an hour at a time
Examples include speakers at the meetings of horticultural organizations, including MGEV organizations; national and international conferences; Extension workshops and presentations; and classes at the many public gardens in the state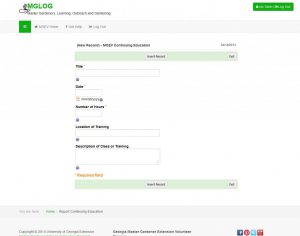 It's pretty easy to record these hours in MGLOG. Simply click the big, green "REPORT CONTINUING EDUCATION" button on your landing page after you log in. The page asks you to record simple information, such as date of the education, title, location, and number of hours. There is a handy description field, too. I recommend adding a brief description of the event for clarification and reminder. This helps if you have to go back and make sure you recorded everything that you wanted to. There is also a spot to record your mileage to and from the event if you track that, as well as the time spent traveling. (Travel time doesn't add in to the training time, but there is a place to track it.)
Remember, also, that Advanced Training counts as continuing education. HOWEVER, continuing education is not necessarily Advanced Training. We shared a post about this that you can read here.
MGLOG makes it easy to keep track of all the training and learning that you do as a Georgia Master Gardener Extension Volunteer! We recommend at least 6 hours annually to stay informed about current garden research, topics, and trends. What a perk of being a Master Gardener!