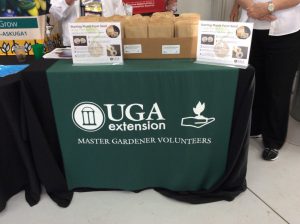 What is a plant clinic or a Master Gardener help desk? At their core, these are public assistant stations staffed by volunteers armed with gardening and horticulture knowledge imparted to them by UGA Extension. A plant clinic was the very first Master Gardener project in Washington state in 1974. Extension agents concocted the idea to begin the program as a response to a great influx of questions from the public. It was this simple idea to harness the volunteering spirit of those with a gardening and horticulture interest that started the Master Gardener program on its course, allowing it to continue to blossom and grow through the years. These are teaching and education opportunities for both the MGEVs and community members, and they allow public connections to be made while extending Extension information.
Have you considered the impact of this single MGEV project? Each year, thousands of community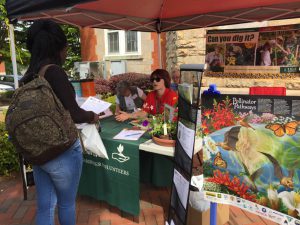 members are helped by MGEVs presence in public locations, answering gardening questions that trouble these community folk. What are some popular locations for these valuable help stations, you ask? Gwinnett County MGEVs hold plant clinics weekly at local farmer's markets and at community events like festivals and Recycle Days. Other Gwinnett locations include nurseries, plant sales, and department stores. Athens-Clarke MGEVs can be found almost daily at the State Botanical Garden. Bartow MGEVs have included them as part of the annual Rose Festival.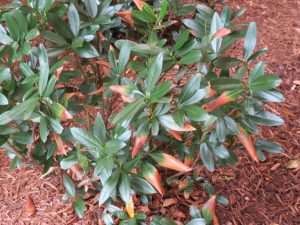 Now that you have a better idea as where to find plant clinics and participate in them as a MGEV, let's talk about what actually happens at these help desks. As you have guessed, there are lots of questions and exchange of information. The type of question is often influenced by the location of the event in which the booth is set up. Gwinnett County MGEVs find themselves answering lots of canning, vegetable at fruit questions at farmer's markets, while the focus shifts to composting, water quality, and environmental issues at community festivals. At nurseries, plant sales, and department stores, Gwinnett MGEVs commonly find themselves addressing plant identification and diagnosis. So, what's the approach to answering questions from this array of topics?
Gwinnett County MGEVs arrive at plant clinics well-equipped with ID posters, reference books, appropriate publications, newsletters, and contact information sheets.  Paulding County MGEVs bring along a form that asks for specific details which allows them to respond to identification requests that require additional research. This allows Paulding MGEVs to follow-up with the client.
Whether you are an experienced veteran MGEV, excited trainee, or a community member, we can all appreciate the value of a solution to a problem! As MGEVs, we can especially appreciate the theme of connecting and serving the community through MGEV projects. This highlight of the plant clinic or Master Gardener help desk also brings us back to the very beginning of the Master Gardener program. Have you signed up for a help desk or plant clinic shift this month?!