What do soils, UGarden, and a Sneak Peek all have in common?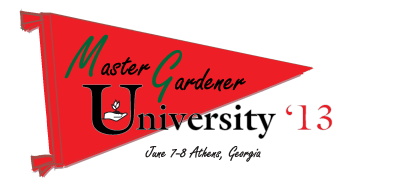 Master Gardener University, of course!
ARE YOU REGISTERED?! (Click here to go to the registration page)
Those folks registering for both Friday and Saturday sessions of Master Gardener University get to choose a pre-event tour on Thursday, June 6, 2013. We have three tours planned (available on a first-come, first-served basis) ahead of our advanced training sessions to see inside of some great work at UGA.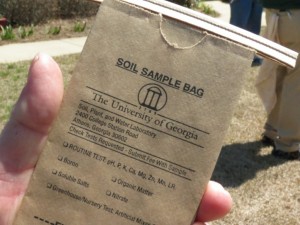 Soils Lab. Have you ever wondered what happens to that bag of soil once it leaves the local office? How is it handled? What processes does it go through to get those results? How is the report generated? How long does it take?
All of these questions and more will be answered during Thursday's tour of the Soils Lab. Participants in this tour will meet at the Soils Lab and get an in-depth look at the process that is so critical to successful and healthy gardens.
UGarden. As I understand it, undergrad students throughout the University (not just Horticulture students) wanted to know how to grow vegetables. They began asking questions, and those questions made their way to the Horticulture Department. Enter Horticulture faculty, and a lot more students from all over campus, and the project evolves! One thing leads to another, and the students want to grow food on campus. It has expanded so that students gain experience in organic vegetable production techniques, fresh produce is donated to a local food bank, and other students get involved. In 2012, a student-managed project received funding from the Campus Sustainability Grants program (for students, from student green fees) to research and demonstrate the effectiveness of vertical gardening by way of a wall unit installed at the UGArden. The produce will be harvested by Campus Kitchen volunteers and distributed at the Northeast Georgia Food Bank.
What is the take-home from this tour? Challenge yourself to rethink your local community or demonstration garden. How can more people learn from the garden? Who can be involved, other than MGEVs, to gain the benefits of growing fresh food, learning new skills, and sharing resources with the community? It's more than just a pretty garden and the thrill of nurturing and harvest!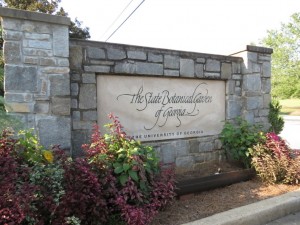 A Sneak Peek…"An Inside Look at the Planning of a Children's Garden" at the State Botanical Garden promises to be very exciting! Did you know that the State Botanical Garden was designing and creating a Children's Garden? What a perfect compliment to the garden and programs! This sneak peek is just for Master Gardeners, and will give an inside look at the effort required to plan a children's garden, including defining the theme and focus, getting input from various experts and the community, choosing the best site, working with designers, relating the garden to surrounding activities, and raising funds. Be one of the first to see the plans for the new Children's Garden!
This is a great opportunity to hear what staff at the Botanical Garden have learned in this planning process. Apply what you learn to your own demonstration and education projects. You can't go wrong with this event that is followed by a guided tour of the State Botanical Garden (or wander the gardens and gift shop on your own.)
So, we hope that you will join us and have opportunity to be a park of  soils, the UGarden, and a Sneak Peek!
ARE YOU REGISTERED?! (Click here to go to the registration page)