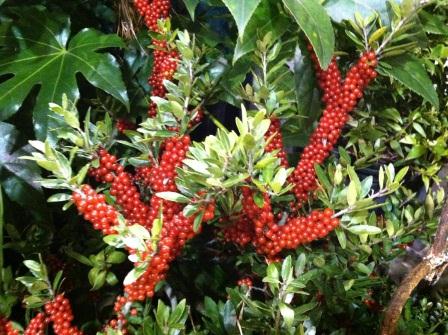 I thoroughly enjoyed my visit to the Georgia Green Industry Association (GGIA) horticulture conference and trade show yesterday. It was such a great opportunity to get a "snapshot" of Georgia's green industry and to hear from incredibly knowledgeable horticulturists.
Being absolutely starved for plant contact, I gravitated to the trade show and zeroed in on the many plants on display. I am a frustrated gardener, as I am still not settled in a place where I can plant and garden with abandon. (I evaluate everything through the lens of practicality: "Can I keep it alive in a container for an indefinite period of time? Is it worth the ATTEMPT to keep it alive in a container for an indefinite period of time? Would it survive planting, establishment, and possible relocation at some future point?")
So, anyway, back to the plants…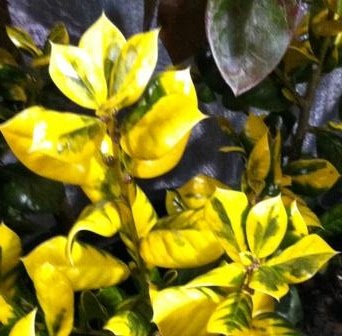 I found many perennials with great colors and texture. I found lots of shrub offerings with variegations and yellow-gold coloring. There were magnificent balled-and-burlapped trees on display, and tray after tray of liners just begging to be potted up. And did I mention the soil amendments and mulches? And the heucheras and hellebores? Again, being starved for plants, I was drawn to all of these different offerings, like this gold Burford holly…
I snapped pictures with abandon, enjoyed myself thoroughly, and picked up countless catalogs and availability sheets (they are great for surveying market offerings). I filled my backpack with excellent evening reading material and headed home. As I began to share my findings with my husband later that evening, I began to ponder, what on earth would I do to show off a plant like this in my garden? How would I use it? Where is its place?
How do you make something special in the garden?
I couldn't imagine an entire hedge of gold Burford holly, but perhaps if I had a dark wall? Seems like extra-unique items like this should be showcased, perhaps in the curve of a simple foundation planting or in a spotlight position in a garden bed, surrounded by understated plants so that its beauty shines. Perhaps it SHOULD be planted in a container and then placed strategically in that garden.
Is one enough or would I need more?
I recalled a planting of weeping Japanese maples at a hotel where I used to meet with a business networking group each week. The entire drive of the hotel was lined with these maples, much like an older farmhouse would have boxwood lining the front walk. I guessed that the installer loved weeping red, cutleaf maples so much that he/she figured more must be good. In reality, each of those maples was unique, but the uniqueness and beauty was lost in that setting as the trees competed with each other and had little else to offset them.
Sometimes we need the plain and simple to really show off the unique and beautiful.
Alas, I went home without new plants to tend, but certainly with more literature to read and garden ideas to mull over on this cold Georgia day…
Indeed, how would you show off something special in the garden?