What does the trellis in your garden look like?
In my old vegetable garden, it was a piece of cattle panel attached to T-posts, with another panel curved over the top. A tunnel for the vertically-challenged, if you will. It wasn't gorgeous, but it did the trick. It sure was convenient to pick green beans off that trellis. I didn't have to reach too far or bend over too much or squat in the dirt.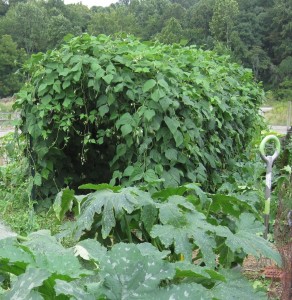 But the beans had no where to go. I made the trellis for me, but not for my crop. So before the summer was over, beans were climbing over everything else. Hrumph…
We launch this Blog, entitled "Trellis," as a support scaffolding for the Master Gardener Extension Volunteer Programs working with University of Georgia Cooperative Extension all across the state. We're here to provide support for MG programs to grow on and a background to enhance and showcase the Extension educational programming going on in communities all across Georgia. We pledge to extend the trellis, giving room for local programs and volunteers to grow and stretch themselves.
What's your ideal "trellis"?