If you have ever been to an NACAA professional improvement conference, you know that Wednesday is tour day. This year was no exception. Conference participants had several tours to choose from including: touring world class cattle, sod, pecan, oysters, cotton and peanut farms. Some of the tours even involved a NASA facility. The Alabama agents did an excellent job preparing and coordinating these tours.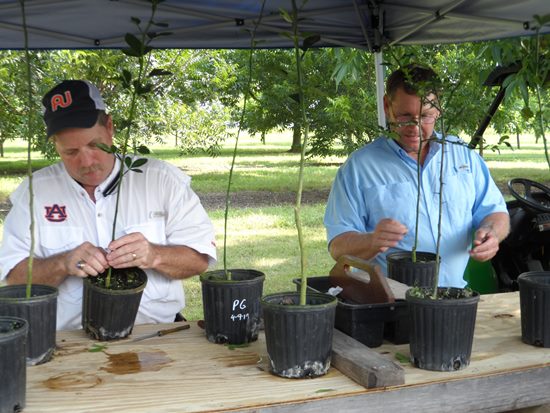 The tour I was a part of was titled, "Sustainable Fruit and Pecan Production in Small and Commercial Farms." This tour included a stop at a pecan operation that included a 150 acre orchard along with a pecan and small fruit nursery business. Mr. Gary Underwood (pictured to the left) is the operator of this family run business. He explained to the group how 8 hurricanes in 18 years have posed a severe challenge to the profitability of producing pecans. He has since started grafting blueberries, satsumas and pecans to be sold to retailers. Gary along with Bryan Wilkins, are shown above demonstrating how to graft satsumas. Bryan is the research coordinator for small fruits and nuts at the Gulf Coast Research and Extension Center.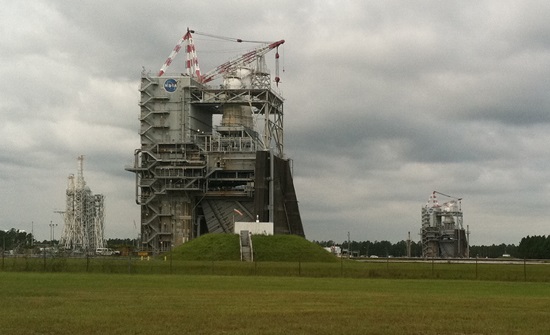 (photo by Laura Griffeth) This picture is from The Stennis Space Center tour. Stennis Space Center is home to the nations largest rocket engine test facility.This NASA facility has built a reputation for excellence in testing powerful rocket engines for over 135 space shuttle missions and also those missions that carried humans to the moon.
(video contributed by Raymond Joyce) This video is from the "From Cattle to Turf to High Tunnels" tour. Raymond took this video from Driskell Farms, which is a diversified family farm that produce cotton, peanut, turf, and cattle. They were in the process of harvesting turf.