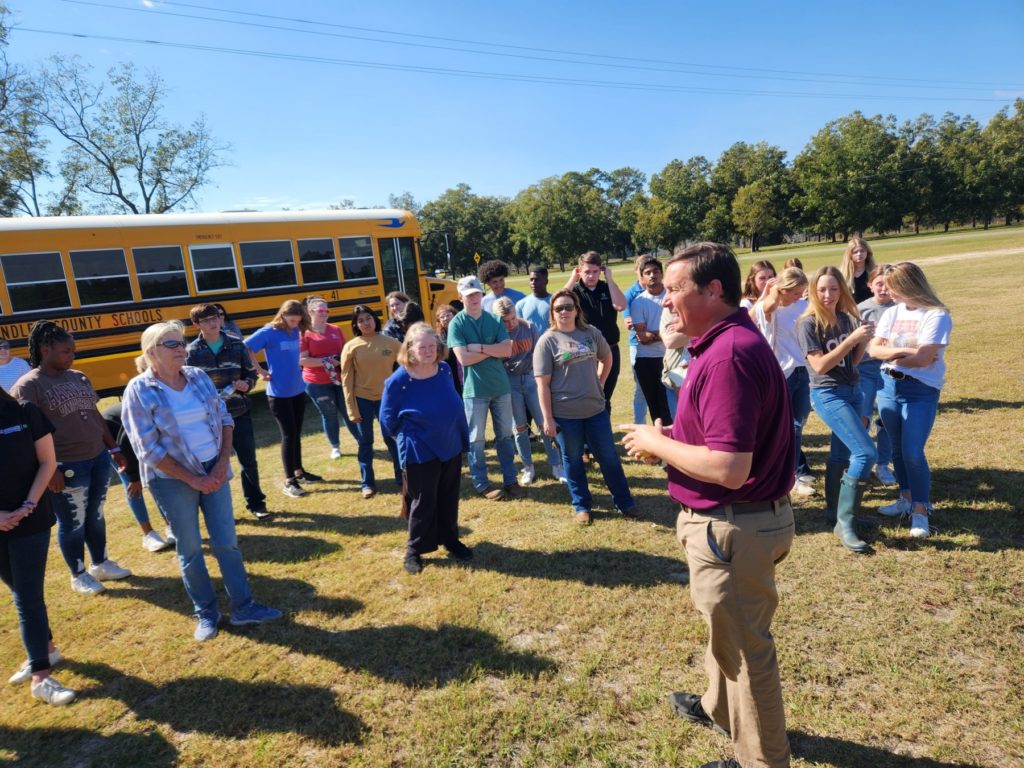 The Candler County Farm Tour took place last Wednesday November 2, 2022 in Metter, GA. The tour was put together by a collaboration of the the Candler County Extension Office, Candler County Farm Bureau, and the Metter-Candler Chamber of Commerce. There were approximately 50 participants in the farm tour this year that were comprised of the Candler Youth Leadership participants and some members of the community. The purpose of the farm tour was to educate kids and community members about the importance of agriculture and how important it is to the economy of Candler County. The tour made 5 stops this year to showcase different types of Agribusiness that is currently operating in Candler County. The stops this year were Wild Georgia Safari Park, Growers Supply and Gin, The Georgia Grown Innovation Center/Better Fresh Farms, Durden Pecan Company, and Hendrix Produce.
The stop at the Wild Georgia Safari Park was an awesome experience where we saw camels, kangaroos, water buffalo, watoosi cattle, ostrichs, and much more. We also heard about lots of local products they sell at their store like jams, jellies, pecans, onions, wines, honey, etc. The second stop was at Growers Supply and Gin where participants got an in depth tour about how cotton is ginned after it has been harvested. The third stop was at the Georgia Grown Innovation Center, which is a agribusiness incubator that has over 45 business members from all over the state, and also toured Better Fresh Farms that is also housed in the same building. The fourth stop was at Durden Pecan Company where Mr. Kyle Durrence spoke about how they clean and dry pecans to get them ready to be sold to potential buyers. The last stop was at Hendrix produce where participants learned about citrus which is a new crop that is gaining popularity in Georgia.
This tour is such a great way to educate the community and our young leaders about how important agriculture is to the economy of Candler County and the entire state of Georgia.